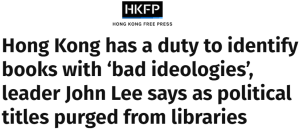 The Hong Kong government faces police recruitment woes…
Long-serving officers have left and generous incentives are not enough to fill vacancies in what is today seen as a brutish arm of the Chinese state…

… Who would want to be a policeman when the whole society despises the profession?" said Prof Chung Kim Wah, a social scientist formerly with the Hong Kong Polytechnic University.
But it is taking seriously its duty (must be buried away in part of the Basic Law somewhere) to recommend books for its citizens.
Lu Xun and George Orwell have been pulled from Hong Kong school libraries. You can read The True Story of Ah Q (it's short and funny) at, um, marxists.org. See also The Ugly Chinaman by Bo Yang (which is actually banned in China). Excerpts translated by Don Cohn (where is he these days?) here.
Presumably also prohibited in Hong Kong, Inside the Red Brick Wall – a documentary movie…
…edited in a fluid, linear fashion by the anonymous Hong Kong Documentary Filmmakers collective [taking] audiences through a week plus-long siege on the university campus at a cinematic pace unhindered by overt editorializing.

…The audience is given privileged access to the frontlines of the activists faceoff with fascist law enforcement, who use a variety of advanced weaponry to maim and subdue the protestors while dispersing their roadblock.
The nightmare that is iSquare – what happens when the Psychopaths on Acid Architects team up with Hong Kong property developers to design a mall/office complex…
Imagine visiting the mall for the first time with an invite to a dinner on 28/F. You arrive at MTR/F, no elevator there; so you take an escalator to LG, still no elevators; so you take another escalator to G/F, still no elevators, so you decide to go up as many floors as you can with any escalator you can see. You may arrive at 6/F and 7/F, only to find out that there's no more escalators going up, still unable to find elevators of any sort.
Hong Kong's role in enabling trade with sanctioned Russia…
Since Russia's invasion of Ukraine, Hong Kong has doubled its integrated circuits exports to around $400 million worth of semiconductors in 2022, second only to China and far exceeding any third country in the volume of semiconductor trade with Russia.
WSJ (probably paywalled) on Beijing's recent clampdown on Western research/due diligence companies…
Putting [state-security czar Chen Yixin] in charge is part of a broader push by Xi to displace technocrats whose backgrounds in economics and finance once made them key to establishing China's credibility with global investors and businesses. While Xi has been gradually shifting the priority of the Communist Party's political agenda from economic development, what's emerging is an entire government apparatus geared toward domestic security.
Chinese authorities punish a comedian and promotions company for a joke that obliquely references the military. (They've now arrested the guy.) Interesting video on the scandal here. China Media Project looks at the state performing-arts organization that controls entertainment.
Q&A with Andrew Batson on China's economic and security situations.
Two pieces on Taiwan's 2024 elections, from J Michael Cole and ASPI Strategist…
Whether it be Lai Ching-te or Hou You-yi, understanding the next president of Taiwan will require some work from an international community that has grown comfortable with and sympathetic to Tsai. Her progressive politics are accessible and familiar to interested international observers.
Guardian review of a British Museum exhibition of the late Qing – a few quibbles, but interesting.