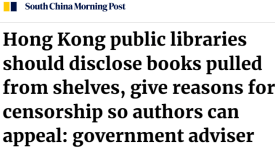 From the SCMP – more on the withdrawal of books by public libraries…
Chui Yat-hung, who sits on the Public Libraries Advisory Committee, on Wednesday also said that books about local social movements should not be censored if they were factual accounts of political events, rather than subjective ones.

"They are history after all," he told a radio programme.

…However, Chui also acknowledged the government risked promoting discussions about books it hoped to censor if it disclosed the titles it pulled from shelves.
Cue promotion of discussion of whether Whig, Marxist, etc interpretations of history are 'subjective'. How many books will be left after all the 'subjective' ones are pulled?
…Some books penned by pro-democracy figures, which had been removed from local libraries, were available in major libraries in mainland China. For example, travelogues and martial arts novel reviews by Margaret Ng Ngoi-yee were found on library shelves in Shenzhen, Beijing and Hangzhou.
That would be an interesting twist: people going from Hong Kong to Shenzhen to get banned books.