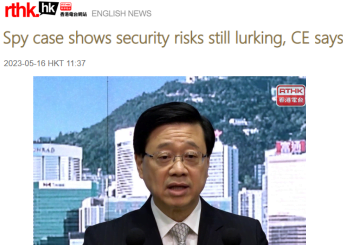 Wen Wei Po and Ta Kung Pao come for the housing/lands NGOs…
…concern groups including Platform Concerning Subdivided Flats and Alliance Concerning Subdivided Flats were slammed for leveraging such issues to "incite citizens' negative emotions against the government."
Between them, the Beijing-run papers accuse concern groups of trying to undermine public confidence in government measures like the Light Public Housing initiative, and charge the respected Liber Research Community with 'smearing' the Lantau mega-reclamation. Wen Wei Po quotes a commentator as saying that 'black' anti-government forces are shifting from overt to 'soft power' activities.
This looks like plain intolerance of any criticism from forces that believe government tells the people what to think – not vice-versa. But it could be more nuanced. Someone in the power structure must realize that Hong Kong's Beijing-appointed officials have failed significantly in housing and land since 1997 (though of course they cannot publicly admit it). To them, Liber's research on how best to fix the problem looks like an attempt to exploit a vulnerability. But of course anyone who thinks this way must also see the government as extremely frail.
Whether it is a bogeyman or a genuine fear, the word 'soft' seems to be important. The CE also uses it in comments to reporters…
"We have stressed repeatedly that even though Hong Kong is now generally stable, we must not let our guard down against any threats to national security. The black riots and the Hong Kong version of the colour revolution of 2019 should serve as a warning for us – that we always have to be vigilant in the long run against hidden threats, including soft resistance."
On not totally unrelated matters…
An SCMP op-ed on the contradiction between Hong Kong as 'back to normal' and Beijing's apparent NatSec fears…
While the outside world sees Beijing's direct imposition of the national security law on Hong Kong as another definite sign of its further tightening grip on the city, the central government mandarins are not yet totally reassured.

…While [Mainland] officials suggested that Hong Kong's stability might have returned, they expressed concerns about hidden national security threats and a "handful of anti-China forces" continuing to plot disruptive activities.
Interview with Louisa Lim, whose book was pulled from Hong Kong libraries.