Among books being pulled from public libraries: Szeto Wah's memoirs and Louisa Lim's People's Republic of Amnesia. The late Szeto's work – of which energetically pro-Beijing lawyer Ronny Tong has a copy – looks back at his time as an anti-colonial Chinese patriot.
It's not simply about subject matter…
Non-political materials were also on the growing list of books recently removed from shelves after an Audit Commission report published last month said that more effort was needed to examine "library materials for safeguarding national security".

These volumes included romance novels by Democratic Party ex-lawmaker Roy Kwong Chun-yu, an award-winning martial arts novel review by former legal sector legislator Margaret Ng Ngoi-yee and two travelogues by veteran journalist Allan Au Ka-lun, who was a columnist for the now-closed Stand News.
Banned author plunges into freezing water as penitence. Mass-burning of the Emily Lau Cookbook tomorrow.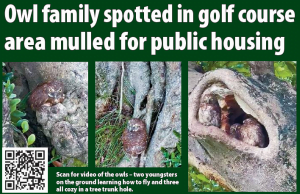 Why is my immediate instinct to assume that the golf lobby ordered a load of owls on Taobao and put them in a tree at Fanling?