More stories in the FT and Wall Street Journal about international businesses and expatriates moving away from Hong Kong because of the National Security Law.
The NatSec 'Law' is in practice a new regime: the imposition of direct rule by Beijing. The new bosses in the HK & Macau Affairs/Liaison Office and National Security Office do not know or understand Hong Kong – and they don't wish to. All they see is institutions, people and ideas that are out of CCP control and are therefore threats.
They aim to turn Hong Kong into something they do recognize – something 'normal' that the CCP can feel comfortable with, absorbed into a Greater Bay Area, etc. The possibility that they might damage Hong Kong as an 'international hub' doesn't register. Indeed, the features that make an international hub are the very things that make the CCP insecure. To them, dismantling rule of law and freedom of expression is vital repair work, to rid the territory of dangerous alien forces that obstruct the Party's rule. We already see the signs in politicized or compliant police, public prosecutions and judicial functions, in the new patriots-only election system, patriotic lessons for school kids and elsewhere. 
One soft target is universities, which depend on the government for funds and fat staff salaries. Atlantic reports on the clampdown on dissent as it spreads across campuses…
The marching orders to suppress freedoms are being dutifully carried out not by police or the authorities, but by fellow colleagues, and even students. One postgraduate student at HKU has reported at least two faculty members to the tip line…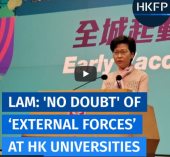 And Chief Executive Carrie Lam warns that the city's universities have been infiltrated by 'external forces' aiming to undermine the nation and brainwash students – and university administrators must be on the lookout for them. (As the HKFP report explains, pro-Beijing media have pounced on a research study on protest crowd sizes. Students were 'paid' to participate, and the work involved overseas-based academics, and thus an evil foreign plot is unveiled.)
Foreign students and academics can only feel nervous about this. For decades, local officials have celebrated Hong Kong's cosmopolitan character, but now they spout lines that might give outsiders the impression they are not particularly welcome. In time, especially as China's relations with the West deteriorate, foreigners in the private sector will start to get the same feeling that they are seen as part of a hostile presence.
The rectification of Hong Kong to suit the CCP's Leninist/paranoid outlook must, by definition, involve removing things that are 'foreign'. Beijing demands a CCP-run city, not an international 'hub', or international anything. If it's any help, it's nothing personal.