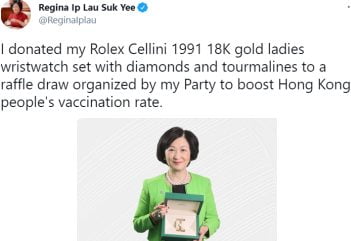 The Hong Kong government is perplexed about whether and how to support the 2022 Gay Games. Some pro-Beijing lawmakers, including the rabid Junius Ho and the embarrassingly dim Holden Chow, are against the whole thing on some sort of Neanderthal or Victorian principles (Carrie Lam referred to it as the 'same-sex games' because she couldn't handle the 'g' word). Regina Ip, on the other hand, displays her worldly sophisticated savoir-faire by supporting the event. 
On top of that, of course you have Covid. If the games go ahead, what's the betting they take place in Taiwan?
On the subject of Reg – if you'd like a Rolex 1991 Cellini ladies' gold watch encrusted with solid genuine diamonds, she's your gal. Just get vaccinated and join her political party! But wait! There's more! The lucky winner gets free, no extra charge, bonus fresh juicy tourmalines! Who can resist? (She's also offering a metric ton of tea or something as a consolation prize. You still have to join her party, though.)
Elsewhere on the pro-Beijing front, we have some tycoon news…
Ronnie Chan, who inherited one of Hong Kong's biggest property developers and turned it into one of the city's medium-size ones – and who is American by citizenship, hangs out with Asia Society/Ivy League/retired-diplomat types, and whose kids are US-educated – tells Hong Kong people to educate their kids in Mandarin.
And 'Dr' Philip 'finger' Wong dies of cancer in a US hospital – because who would trust a Mainland one? (OK, the finger incident: he was pretty drunk, having been barricaded in the Legislative Council bar for ages while protesters surrounded the building. Don't ask how I know.) 
While undeniably assholes, both these shoe-shiners – if you met them – are/were quite amusing company. In contrast, I suspect, with the knuckle-dragging opportunist Junius/Holden brigade, or the humorless self-important Carrie/Reg-type bureaucrats.