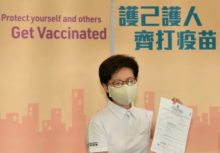 Hong Kong has millions of doses of the (classy, superior) BioNTech Covid-19 vaccine that will have to be dumped in a few months when the 'sell by' date comes up.
Fewer than 20% of the population have had even their first shot. The low level of cases in the city makes hesitancy an easy default option (see Macau). But there's a twist to it: in some quarters, not getting vaccinated – or tacitly tolerating or backing those who do not – has become a form of anti-government defiance. This might sound deranged, but the new NatSec-style of government has become so threatening and lost so much trust that many people see even this type of resistance as justified.
The regime itself has not always appeared to be prioritizing public health. The initial mess over border closures, the use of anti-Covid measures to suppress protests and the apparent downplaying of BioNTech in order to flatter the Chinese vaccine – these all look politically-driven. To the extent the government appears eager to achieve herd immunity, it focuses mainly on being able to reopen the border to Mainland visitors.
Now Chief Executive Carrie Lam laments that many of the city's people will refuse the shots even if she offers them money. But she seems curiously reluctant to give it a try.
A humble suggestion – just offer everyone who gets vaccinated:
(In anticipation of complaints: those of us who have already been vaccinated and are tempted to whine about not getting their thousand bucks would get a back-dated Bronze Bauhinia Medal as consolation. Top prize for the lottery could be a never-used retirement home in Oxfordshire owned by a certain Lam family; 2nd prize, an apartment in Thamesmead. The sky's the limit.) 
Even a dictatorship should be able to mount an effective public-health campaign if it wants to. It would be an opportunity to gain some legitimacy (indeed, if our officials were genuinely devious, they would see it as a way to sow discord within the opposition movement). Yet the administration dithers.
Of course, all this assumes the government actually wants the current state of domestic semi-crisis to end. Maybe, instead, it is biding its time while secretly working on a special vaccine that makes tourism safe but leaves opposition gatherings risky.