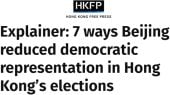 Among other unsurprising things yesterday… The NatSec Regime bans Hong Kong's once-annual 6-4 vigil (no word on whether people can go to Victoria Park alone to sit and look at a flickering candle on their phones). And the (now all-patriot) legislature votes to abolish free elections to itself – all thanks to the CCP. You've heard of turkeys voting for Christmas; this is shoe-shiners voting for being swamped by patriot-zombie appointees
Slightly less predictably, the Secretary for Security threatens HSBC and Citibank management with prison if they do business with Jimmy Lai's accounts in Hong Kong. I'm a bit skeptical of forecasts that regional headquarters will flood out of Hong Kong in a panic – the most noticeable exodus in the years ahead will be that of middle-class families. But the NatSec officials clearly don't care if they do scare businesses away.
Another prediction: the Democratic Party – or at least a rump of it – will end up participating in the 'elections' for LegCo later this year. Chairman Lo Kin-hei has said that pro-Beijing elements want the party to help legitimize the charade, while his own supporters do not – and he is therefore (incredibly) undecided. The Dem Party has long been prone to occasional bouts of 'self-important nonentity syndrome', and it looks like it could easily suffer a fatal attack of it.
As Kevin Carrico points out in the RTHK item, the only credible stance on this 'election' system is to boycott: don't run, don't vote, don't even watch. If you need a clue, the government itself is talking about making it illegal to call for a boycott. What more do you need to know?
Some weekend reading for the gentry…
The Diplomat on the gutting of RTHK…
For journalists, news consumers in Hong Kong, and others familiar with RTHK, each development brings a renewed sense of pain and loss as another of the territory's once renowned institutions becomes a shadow of its former self.
From Transit Jam: after cornering sports-centre bookings and parking spaces, gangsters are now making HK$200,000 a month trading in motorbike inspection slots. (Doesn't the system use ID card numbers to ensure users are genuine? Guess not.)
ABC presents a long story on China's proposal to create a massive hydroelectric plant on the Yarlung Tsangpo. 'Completely nuts' says one overseas expert. Worth reading just for the graphics.
A (slightly geeky) case-study in social-media forensics tracing the online origins of China's boycott of H&M.
A Beijing-sponsored art competition for Turkish schoolkids backfires as the youngsters include East Turkestan flags in their paintings.
For language fans, a Taiwanese betel-nut vendor's sign uses written Chinese, Japanese and the Bopomofo phonetic script to render an indigenous Paiwan word.
Meanwhile, in Southeast Asia: an article on Thai King Vajiralongkorn's bizarre upgrading of his Bangkok palace, including underground tunnels and the installation of a Boeing 737 in the garden – with some detail on the aircraft itself (it might not be the one His Highness thinks it is).