Number-two NatSec Police chief Frederic Choi is sent on leave pending an investigation for misconduct. It seems he was caught in a raid on an 'unlicensed massage' place. Now, several weeks later, it is leaked to the press. Tongues are of course wagging, and the public are enjoying the sight of puffed-up Police Commissioner Chris Tang on the defensive.
But what exactly has happened? Did a Senior Assistant Commissioner – surely an intelligent/happily married/well-paid/connected/informed man – actually resort to some illicit sleaze-pit for a 'massage'? Or was his presence some sort of entrapment or even a fabricated frame-up?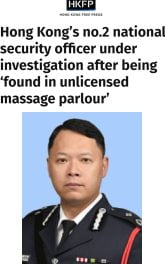 The answer to the first question could well be 'yes' because it is not totally unknown for cops to be a bit dim or uncouth, especially if they are in a unit that is told it is above the law. So – was the vice raid on the premises while he was there a pure coincidence? That is too much to believe. The raid and/or the press leak must be the work of someone who wanted to smear him.
That could mean someone with a major grudge against him – possibly (if this were a TV show) a criminal he once brought to justice, though for the purposes of far more exciting Internet drama let's stick to rogue elements or rivals among officials or cops.
However, there's a problem with this theory. Framing, snitching on or just doxxing (loosely defined) a high-ranking Beijing-approved US-sanctioned award-winning NatSec functionary would be a risky step. Indeed, an embarrassing and sensitive high-profile leak like this is tantamount to undermining the state. Would any mere mortals – like fellow cops/officials – dare cross the CCP by indulging in such office-backstabbing shenanigans?
So we go back to another explanation, namely that the whole thing is a more basic stitch-up. And we all know who in Hong Kong has extensive expertise in arranging for people to be caught in tawdry circumstances.
The CCP picked and authorized Choi in the first place, and could order a sideways promotion or any (and I mean any) way of disappearing him if they wished. But if he displeased the central authorities in some way, and the vindictive CCP paranoids saw a need to make an example of him, isn't an illegal vice den scandal exactly what you would expect? Right down to the 'if the locals look even more stupid, who cares?' attitude.
Or, of course, there could be a dozen other explanations.