Not just authoritarian so much as disturbing, Police Commissioner Chris Tang rants again about 'fake news'…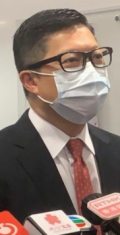 "Whether a piece is considered fake news has to do with moral judgement and credibility issues, and has nothing to do with me. But if these fake news incite hatred and divide society, then people have a chance of committing crimes, including offences related to national security. Then I have to act," Tang said…
"As long as you broke the law, we will find evidence to prove that you committed a crime. You can only wait at home for us to arrest you. But you don't have to worry at all if you didn't break the law," he said.
Sounds like the Commissioner will use his moral judgement and credibility to decide whether a story 'incites hatred and divides society'. The baiting of individual law or education professionals by Ta Kung Pao presumably won't, but any Apple Daily report exposing incompetence or brutality by the disciplined services will – as would some recent Hong Kong coverage in The Guardian, Atlantic and other international media. 
Every day – every week, at least – we get that little bit closer to packing our bags.
Also coming soon: a new, very tough, law against doxxing. The naming of cops in online forums is another of the Police Commissioner's big hang-ups. But this drastic leveraging of the Privacy Commissioner's function – along with the partial obscuring of business and vehicle registration records – suggests that the pressure comes from higher up, and is aimed at ensuring the confidentiality of CCP elites and their families.
Despite all this, Ranting So-Called Freak-Out of the Week Award goes not to the HK Police chief but to Globular Times, for its extreme reaction to a little-known democracy conference in Copenhagen at which Taiwan President Tsai Ing Wen appeared.
A mid-week round-up of recent items on other fake news…
From the Hoover Institution, a guide to the CCP's overseas propaganda…
Leveraging Western elites' weakness and gullibility, plus the vulnerability of open societies, the CCP's massive overseas propaganda campaigns can be delineated into four general categories: disinformation, elite capture, coerced self-censorship, and brainwashing.
One example: an analytical study of Beijing's Twitter activities in the UK, with graphics showing things like the fake accounts that follow the PRC ambassador. (Summary in this AP report.)
And an Axios report on the expansion of Beijing's influence work in the US, based on foreign-agent filings.