From NPC Observer, in case you need it, an exhaustive run-down of Beijing's 'improvements' to Hong Kong's electoral system. Some worthwhile analysis and commentary on the past and future of the NatSec era…
Matthew Brooker at Bloomberg on the origins of Beijing's move to snuff out democracy in Hong Kong, and the extent to which – with a Leninist regime holding all the cards – it was inevitable.
Minxin Pei in Nikkei Asia on Beijing's plan to take power away from Hong Kong's tycoons-bureaucrat cabal, and make their (and everyone's) lives nastier – for example, reducing government competency by directly choosing loyalists as officials.
China has several critical tasks to complete, such as changing the rules of appointing senior government officials, instituting patriotic indoctrination in schools and government agencies, strengthening law enforcement – which can only mean introducing pervasive surveillance – and integrating the Hong Kong economy into that of the Pearl River Delta.
In all likelihood, China will also marginalize Hong Kong's elites when it drafts and acts on these plans. However, unlike the national security law and the electoral law, which primarily target pro-democracy activists, Beijing's future actions will unavoidably trample on the interests of the city's elites…
We will hear more on the NatSec Regime's impact on retention of talent and quality of governance before long. Meanwhile, a brief taste from Atlantic's Timothy McClaughlin on how it is hindering the struggle to win public trust in Covid vaccinations…
Hong Kong has few options for trusted vaccine ambassadors: Many of its most popular lawmakers, as well as activists, are in jail or have gone into exile. Pro-Beijing lawmakers and celebrities have been focused recently on other topics, such as defending China's labor practices in Xinjiang.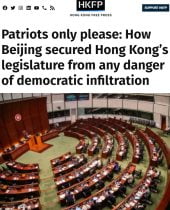 Suzanne Pepper in HKFP on the 'improvements' in the legislature, and on the expansion of Hong Kong's 'patriotic' community from a small group of devout Leftist outcasts in the 1950s-70s to anyone who doesn't want to be an outcast today.
And the SCMP carries an op-ed by the US Consul-General pleading fairly diplomatically for Beijing to go back to the original 1C2S deal…
The government's inability or unwillingness to resolve public concerns was the cause of the 2019 protests. Now, it says the solution is curtailing pluralism and suppressing dissent. Hong Kong – once a bastion of disparate voices, lively debate and the rule of law – is now a city where people are arrested and languish in detention for months before trial for taking part in peaceful demonstrations or primary elections and face years of imprisonment under a national security law developed, imposed and enforced by organs accountable only to Beijing.