The government is reportedly looking into making protest votes illegal and/or making it an offense to call for protest votes or an election boycott. Minds are struggling to work out how such laws could be enforced.
My prediction… The government decrees that the 'unused' votes on blank/spoiled ballots will automatically be divided up among candidates in proportion to the total non-spoiled vote so there are no uncounted ballots. As for banning calls to boycott, it is likely the government will deem such expressions seditious, and dissidents will have to urge fellow citizens to (say) go hiking on election day – with a pronounced wink of the eye.
Whatever action the government takes, the responses to such trivial potential civil disobedience will be clunky. Beijing's officials – who are obviously behind this sort of idiocy – didn't think things through before reducing the electoral system to a doubly-rigged joke. And they will continue not to think things through: Won't discussion of such prohibitions simply draw attention to the whole idea of protest votes/a boycott among people who hadn't considered them before? (Clue: yes it will.)
Some links to ease us into what promises to be a short week…
Regina 'Zero' Ip faces a BBC interviewer reminding her that her 'party' won no seats in the district council elections. Her willingness to be publicly kicked in the teeth is almost as compelling as Carrie Lam's kamikaze-psychopath-zombie routine.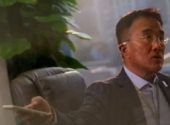 A HKFP interview with 'moderate' Michael Tien (a one-time ally of Reg's group) trying to sound supportive of the election 'improvements' that sideline his own local business milieu, and trying to convince us – or at least himself – that the worst of NatSec horrors are over. Like his brother James, he never quite mastered the art of shoe-shining the CCP in the self-debasing way that comes naturally to many other tycoons.
The government is claiming that NatSec Police have the right to seize and read journalistic materials, which would include details of reporters' sources. Does anyone expect otherwise?
Elsewhere in Apple Daily, the Easter rush of emigrants from Hong Kong to the UK, and an interview with the boss from jail.
The brilliant Anne Stevenson-Yang on how and why billionaires (Zuck, Musk, etc) side with fascist/CCP dictators.
Mad dogs (and occasional running ones) – China Media Project presents a history of CCP-backed mouth-frothing and ranting up to the days of the wolf-warrior diplomats
For the Chinese Communist Party, online rage is the conflagration needed to suck the oxygen out of any debate over substance, and distract attention away from criticism. 
Denmark faces CCP lawfare.
And an interesting commentary on the Essex Chambers sanctions…
"Please, please Mr Genocidal Dictator, it's their fault not ours, don't blame us. We're still happy to work for you."
Chambers has demeaned itself by grovelling in the face of such intimidation.