A bunch of banana-republic/show-trial stories…
An optimistic defendant appeals against not having a jury in Hong Kong's first NatSec trial.
Andy Li (maybe – no-one knows – being held incommunicado in a mental hospital) gets a government-appointed lawyer his family has never heard of. Apparently the counsel's a company/land law specialist.
The government removes accused persons' details from court charge sheets – so it will be harder for the press to find out whose cases are coming up.
And HKFP points out a (hardly surprising) contradiction arising from Hong Kong court decisions: clicking 'like' online is evidence of support where it will hurt pan-dems, but not evidence of support where it would benefit pan-dems.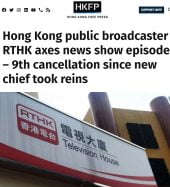 RTHK's new CCP-approved boss obviously relishes scrutinizing and micromanaging the broadcaster's every minute of programming. Serious question: how does he find time to watch/listen to/read all the content? HKFP are valiantly trying to keep count of how many shows the guy has pulled. He now tells staff to withdraw entries to a human rights journalism awards event, presumably for fears the station's work might be internationally recognized for high quality – heaven forbid. The organizers say 'too late, you're in'. Expect an angry 'interfering in our affairs' tantrum if RTHK wins an award.
For aficionados of Election Committee sub-sectors, an Apple Daily wrap-up of how Beijing will replace existing voters with state-linked and pro-Beijing groups. Since everything is already rigged and Beijing decides the result in advance, these changes are simply the CCP's charming little way of saying to lawyers, accountants, tycoons and others: 'We really really hate you'.
The number-one question as a LegCo 'election' looms – to boycott or not to boycott? (Incredibly, there are Democratic Party masochists who still can't seem to make up their minds. The answer is 'boycott'. I understand why the intemperate might prefer to mutilate their ballot, but a low turnout/shortage of candidates sends a bigger message.)
A Quartz bio of reporter, activist and heroine of 2019 Gwyneth Ho, now (guess this goes without saying) in jail. Speaking of 2019, I just happened across this reminder of June 16.
Neville Sarony in Asia Times on Hong Kong disciplined services' transition to the funny/creepy/Prussian goose-step style of marching.
…George Orwell observed that the goose step was only used in countries where the population was too frightened to laugh at the military. 
A former top UK jurist on Beijing's sanctions against Essex Court Chambers.
The BBC's Beijing correspondent has moved to Taiwan. Globular Times bids him a snotty farewell. Maybe the trend for foreign reporters to flee China for Renegade Province will lead to more and better coverage of Asia's freest country.
From 60 Minutes, a look at how the WHO let China off the hook in investigating the origins of Covid-19.
ABC News in Oz on China's new approaches – like 'adding snark' – to messaging against the West.
George Magnus on China's 'go-it-alone' five-year plan.
A British lawmaker's reaction to being put on Beijing's Naughty List.
And for anyone with an interest in Serbia: China's military boss thinks this is a cool time to visit the place, and how the country's media is going pro-Beijing.