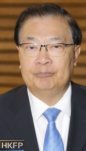 Following the New Year Purge, the US puts sanctions on pro-Beijing stalwart Tam Yiu-chung, three members of the NatSec Police, and a couple of Mainland officials overseeing Hong Kong. Reuters report here.
Tam has presumably been included because he is the only Hong Kong member of the NPC Standing Committee, which issues Beijing's imperial edicts that override the Basic Law/local legislative process – notably the one imposing the NatSec Law.
Tam is a veteran CCP loyalist who came through the local United Front hierarchy – thus more than a mere shoe-shiner from the tycoon/social-climber brigades. But he doesn't have any input into serious high-level CCP decision-making. The Standing Committee, like the whole NPC, is just a rubber-stamp. He has also been a member of the CPPCC and the local Executive Councils – both essentially ceremonial 'advisory' bodies. 
So, unlike the cops and officials on the list, he does not hold actual executive authority or wield power. All he does is strut around obediently reciting the party line – as he has done on NatSec issues. In his zombie-like way, he is innocent. Unfazed Tam's inclusion in the sanctions should worry other 'heavyweights', as the SCMP calls them.
It certainly worries someone. The HK government goes beyond whiny and bursts into some of its most brain-exploding freak-out ranting yet in its press statement, which starts with 'insane, shameless and despicable' and ends with 'deplorable … totally illegitimate and violates established principles of international law'. The extreme 'utmost' 'so-called' panty-wetting – and the insistence that the sanctioned are 'discharging an honourable duty' – are presumably for the benefit of Tam and the NatSec cops as they adjust to life without personal bank accounts and credit cards. Apart from that, the CCP will take their continued slavishness for granted, and one day they will be of no further use.
The HK government rolls out its loyalty oath for civil servants. The pledge is brief and inoffensive enough to convince most – probably all – civil servants to sign and return it within a month. But it is also vague, and subject to NatSec Regime definitions of words like 'allegiance' and 'obedience'. Tam Yiu-chung will be happy to explain more about what this means in practice to your freedom of expression and action. The days when civil servants could attend protests or sign petitions are over.
Bureaucrats will have more declarations to fill in if they have to state that they do not hold a BNO passport. The SCMP article mentions the UK's policy of offering residency as 'overreach' in China's view, but perhaps Beijing is the one trying too hard. Large numbers of Hongkongers – including many oh-so-loyal pro-Beijing folk – hold BNOs, Canadian or other passports, even though China does not recognize dual citizenship. Having to come clean about, or even sacrifice, their hard-earned overseas right-of-abode would be a serious test of their love for the CCP.
The Law Gazette on the rights and wrongs of David Perry QC prosecuting people like Martin Lee and Jimmy Lai. Sympathizers argue that he must take on clients regardless of their 'morality' – as advocates have always done to ensure (say) heinous murderers do not go unrepresented. This sounds fair and noble when you are defending an individual. But does the principle apply if you are asked to prosecute on behalf of a repressive (foreign) state or thuggish regime trying to keep itself in power by assaulting citizens' rights and freedoms? (Some learned comment here, and in the Guardian.)
(As commenters have pointed out, to get around the current ban on travellers from the UK, Perry would have to do 21 days in – say – Dubai, then another 21 days in quarantine here. So how will he make it for February 16?)
Unless something interesting happens during Hong Kong's latest cold snap, I'll probably be hibernating for a few days.