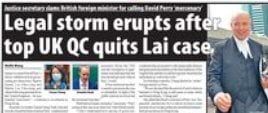 Not much of a surprise given the criticism: David Perry QC has dropped out of the prosecution of Jimmy Lai, Martin Lee, Margaret Ng for the CCP's Hong Kong regime. Funny how the government can write a relatively short whiny press release when it feels like it. Looks like the days when overseas lawyers took on such work are over. With the outgoing Bar Association head warning that the NatSec regime has diminished judicial independence, overseas Court of Final Appeal judges will be under more pressure to quit.
The Hong Kong government is meanwhile planning to let the Immigration Dept bar people from exiting the city. This is ostensibly an amendment aimed at asylum-seekers, but it could easily be applied to would-be emigres, BNO passport holders, or anyone.
Here's a clue. Uncle Bob – a cockney-speaking Hongkonger who does some amusing food/lifestyle vids – detected suspicious Gestapo-types lingering at the airport, as if to monitor who is leaving town for LHR. Given that many pan-dems (and other) people have a range of documents to use (BNO, HKID, HK/Portuguese/Canadian/other passport), perhaps the Immigration Dept computer system can't keep track of everyone, so they want to do visual IDs of faces.
The UK hits back at Beijing's threats to take action against BNO passport holders moving to Britain. HKFP looks at one family that's leaving.  This is early days.
As if the Brits aren't annoying enough, a London borough is thinking of renaming streets to piss off the newly relocated Chinese embassy. While wondering how to pronounce 'Xiaobo Road', local residents may also be able to admire the Tibetan flag flying from the town hall.