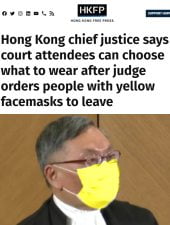 Judge Ernie gets slapped down by the new Chief Justice – you may wear yellow underpants in court, after all.
Otherwise, it's the usual grimness. Activist Frances Hui in The Diplomat looks at how Beijing is pretty much criminalizing pro-democracy opposition in Hong Kong.
The Hong Kong government could not afford to let the democratic candidates demonstrate their substantial base of support … any center of influence or power outside of the CCP's grasp is seen as a potential vulnerability that has to be eliminated.
And – you will be amazed to hear – Beijing is just starting. A mystery source tells Reuters that Hong Kong's election system is not rigged enough, and the current clampdown-purge-rectification has a long way to run…
Among the next steps authorities could focus on … are disqualifying hundreds of democratic "district councillors" who dominate the grassroots political arena; entrenching loyalty to China within the civil service; squeezing businesses whose bosses explicitly support the democratic cause; and creeping censorship of the internet and media under the auspices of national security.
A reminder that the way to make your voice heard from now on in Hong Kong elections is simple – boycott. Can't wait to see what infantile methods the government dreams up to try to lure people to polling stations if and when they open for business again.
The Reuters story suggests that the NatSec Regime will go further beyond 'lawfare' (like disqualifying candidates) into the realm of intimidation (enforcing loyalty in the public sector) and thuggishness ('squeezing' – a la mafia – pan-dem businesses). Missing from the list but certain to come: greater surveillance and data collection. Were you on anyone's contacts list?
In the spirit of everything falling apart, the Tracker Fund is now going to be the Tracker Lite. Having dropped constituent stocks China Mobile and China Unicom, it will deviate from the Hang Seng Index it is designed to follow. Fund-manager types point out that it could underperform the HSI. But of course, it could outperform. They could even market it as a new sexy socially-responsible ETF concept – 'Hong Kong ex-creepy Commie state-military complex'.