The new Chief Justice is sworn in. Andrew Cheung Kui-nung will have been heavily vetted by the CCP. His first public comments as head of the judiciary are the familiar warnings against saying nasty things about judges – who, he says, must be 'impartial, free from bias or prejudice'.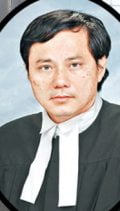 This is just after District Court Judge Ernest Lim orders that anyone wearing yellow facemasks in the courtroom be taken down to the cells and flogged. Some may consider Lim a bigoted jerk, and his comments (English graphic here) borderline obtuse. I couldn't possibly comment. But who needs dangerous unpatriotic radicals to bring judges into disrepute when we have Judge Ernie?
From the SCMP report on the new Chief Justice…
People who have met Cheung describe his reserved style and knack for keeping a low profile. Others say he is a devout Christian…
As a former appeal court judge, he is known for some conservative decisions…
Human rights lawyer Mark Daly said: "…I have concerns, given some of his early judgments with respect to refugee and migrant rights and LGBT+ rights, which were thankfully put right at the Court of Final Appeal."
No more of that 'putting right' nonsense from now on – Cheung will of course be on the Court of Final Appeal.
Meanwhile, to ensure a steady stream of enemies of the state for the courts to convict, the HK Police are pleased to announce their latest purge – tennis players.