Massively Overwrought Panty-Wetting of the Day Award goes to the Hong Kong government's press release strongly deploring and objecting to a senior UK government official's meeting with political refugee Nathan Law. The statement includes special-bonus no-extra-charge mouth-frothing about the presence of a Hong Kong flag next to the British one at the gathering's photo-op.
Regina Ip spots the diplomatic-vexillological outrage and patriotically leaps into action on Twitter, accusing Home Secretary Priti Patel of insulting China. (Worth it for the warm and constructive replies from her fellow Twitter users.)   
Was this clear breach of protocol just a screw-up, or are the Brits learning Beijing-style trolling? The event was convened by a candidate for London mayor, and seems to have taken place in the Houses of Parliament, so was not as official as it might seem. Still, the pic has unmistakable government-in-exile vibes…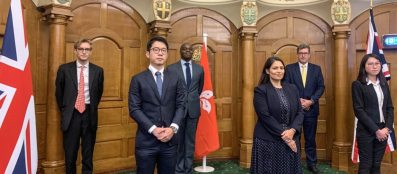 …and as long as we get a nice Panda-Tantrum out of it – that's the main thing.
More on Regina below – but first, you have to go through the recommended reading for the weekend…
An HKFP column considers Joshua Wong's treatment at the remand centre – X-rays and solitary confinement.
While we're on the subject, Kafka gets a name-check in Antony Dapiran's review of Aftershock: Essays From Hong Kong.
The Diplomat looks forward to 2022 and the 20th CCP Congress. Either Xi stays for a third term as CCP General Secretary and Emperor-for-Life, or the elite are sick enough of him that they kick him out. Interesting look at various scenarios.
China Digital Times on how Chinese pharma companies' past corruption is affecting the rollout of Covid vaccines.
Thought Switzerland was a sensible, conservative, cautious sort of place? The Guardian on how the government there gives Chinese security goons the run of the country, and even pays their airfares and hotel accommodation. And probably chucks in some free cuckoo clocks and chocolate as well.
American Prospect offers a War and Peace-length saga of how US companies sold out to China for decades.
…this isn't actually the story of China incentivizing U.S. companies into helping improve their missiles. That's nothing. This is the story of how, 25 years later, in the midst of a global pandemic, America woke up and realized that it is completely dependent on Chinese manufacturing for everything.
From Reuters, a special report on Beijing's increasing military pressure on Taiwan.
Nine Dash Line urges everyone to stop seeing Taiwan as a thorny China-related problem, and more as a – well, a country…
…the more the Communist Party of China articulates an exclusionary Chinese identity, the more eager the Taiwanese are to distance themselves from the label and Taiwanese politicians invoking it.
Some critical observers warn that Taipei will inevitably have to deal with the unyielding demands of Chinese nationalism. But that is not the only reality that has to be faced. Beijing must also face the reality of the Taiwanese nation.
And for the pervs out there, a thread of rather fetching Regina Ip photos, including one of her carrying buckets of fish (or maybe copies of Xi Jinping's book) on a yoke at a wet market, and another of her smiling serenely while having a post-natal massage (or something) – and of course those renowned legs.