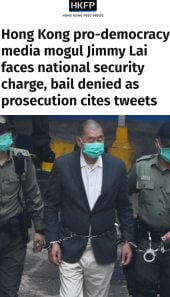 Another image that won't be forgotten soon – Jimmy Lai in manacles for allegedly Tweeting his opinions. Simply using trumped-up charges to keep him in jail isn't good enough. Will they also send him to the Mainland for trial?
The CCP seems obsessed with the idea that Lai is a mastermind/funder/leader of Hong Kong's protest movement, and the sight of him in chains will cow everyone into silence and submission. They have a big shock coming.
More from the weekend: 19-year-old Tony Chung is convicted of insulting the Chinese flag, and activist Baggio Leung seeks asylum in the US, where he advises officials to block Chinese banks from using the SWIFT settlements network. 
Banks are in danger of retaliation for freezing dissidents' accounts. But can we expect companies – with their duty to shareholders – to invite business-wrecking retribution from Beijing by acting otherwise?
Which leads us to the Hong Kong government's Employment Support Scheme. Which companies claimed the most Covid non-layoffs handouts? David Webb has compiled (no thanks to the government's opaque and clunky approach to making data public) a list of the beneficiaries. The top 5,000 are here. Top recipient is Dairy Farm (ie Wellcome, 7-Eleven, etc); other supermarkets are prominent, as are private hospitals (Baptist came 31st by claiming HK$129mn) and cake shops.
Elsewhere, while we wait for this week's horrors to unfold, former Governor Chris Patten again accuses Beijing of breaking its handover promises to Hong Kong.
"They've broken their word to Hong Kong and internationally and they're destroying a great city," he said.
And the Chickeeduck security grille gets a paint job.