Michael Chugani in the SCMP provides a list of reasons why Hong Kong's international reputation is beyond repair. And within hours, another one crops up: the government wants to find a way to extend censorship by banning 'misinformation'. Because of 'loopholes'.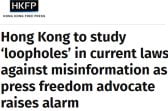 Officials cite Germany's ban on certain types of fake news on social media, to make the idea sound palatable. Also – less convincingly – Singapore. Russia and Malaysia also have such laws. In freer countries, the rules specifically target things like hate speech, but in more authoritarian regimes it is simply a way to criminalize anti-government views.
This proposal probably owes something to the HK Police, who have been embarrassed by rumours and allegations about cover-ups, for example over their never-explained rampage in Prince Edward MTR station in August 2019. But it's easy to see how any statement the government disagrees with could become a 'falsehood', and next thing you know one Facebook post lands you in jail without bail for months.
Ever since the imposition of the CCP's NatSec Regime, it has always been a matter of when rather than if the authorities start to clamp down on the Internet. Ultimately, the CCP will be happy only when Hong Kong has a Mainland-style intranet, with Facebook and Twitter inaccessible, and compulsory real-name registration of all social media users.