SCMP marks the 30th anniversary of the Asia Society Hong Kong, otherwise known as Ronnie Chan's club house. The piece emphasizes the generosity of plutocrat-socialite backers and the bright side of never hosting anything 'political'. But it hints at the awkwardness of the arrangement – 1950s-era American elite-philanthropist-globalist NGO-cum-HK tycoon-United Front-shoeshiner-vanity project. So 1990s.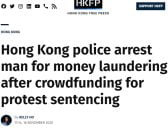 Not so 1990s: the CCP-run HK Police arrest an (already convicted) activist for money laundering – or at least crowdfunding family and other expenses. They also freeze the account. Not the first time they have used money-laundering laws for political vindictiveness. Meanwhile, a teacher deregistered for conveying 'baseless ideas' to students speaks out.
In both cases, the NatSec regime aims to spread fear. The tactic may be effective in the Mainland, with its long history of feudal and Communist despotism. But in Hong Kong, it must be at least as effective in spreading ever-greater contempt and loathing for the CCP among much of the local population, on top of all the other horrors going on (Lowy Interpreter looks at the pan-dem evacuation of LegCo).
As Covid fades in the coming year, things will go back to normal. And 'normal' in Hong Kong means protests and an underlying mood of rebellion. Will we see some big 2019-style marches in 2021?
On the subject of Covid, David Webb blasts the government's high-handed approach in trying to make testing compulsory when a positive result could mean a loss of earnings for many low-paid workers. He proposes a simple way – compensation – to induce people to take the test. It would be interesting to know why bureaucrats haven't gone for such an approach. Are they so cut off from reality that they think everyone qualifies for sick pay? Or have they adopted a NatSec-era assumption that the population are the emperor's property and must obey?