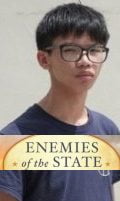 Few 19-year-olds can be as accomplished as Tony Chung, if the allegations against him are at all true. The former leader of pro-independence group Studentlocalism is charged with secession (under the NatSec Law), money laundering (under easy-to-abuse laws) and 'conspiracy to publish seditious material' (under an archaic colonial law put to extra-Kafkaesque use) – and denied bail. And officials rant about foreign countries scrapping extradition agreements with Hong Kong.
The BBC's Stephen McDonell:
It's only when you sit back and ask yourself, "What has Tony Chung actually done?" that you realise just how draconian Hong Kong's state security law is.
…now people are seeing the reality: state security agents grabbing teenage activists from cafes and taking them away perhaps for the rest of their lives. On the ground in Hong Kong, the shocking reality of the new legal regime is becoming clear.
What are the chances of Stephen McDonell getting his visa renewed? 'Sedition' and visas are both mentioned in this interview with the NY Times international president on why the paper's online HQ is leaving Hong Kong for Seoul.
The Diplomat lists four signs that Hong Kong is headed towards totalitarianism. They are: increasing economic costs to pro-democrats (eg disqualification of professionals); weaponizing the courts; making democrats social outcasts (eg blackballing them from civil, cultural and other bodies); and restricting travel abroad. All are already detectable to some extent.
A game – if you get bored of devising creative uses for the NatSec Stasi Hotline – is to consider other signs. For example, how long before lawyers don't dare represent the likes of Tony Chung?
While we're at it – John Burns in HKFP on what the appointment of new HKU vice-presidents tells us about how the CCP is running Hong Kong.

We end the week on a lighter note by celebrating the effects of falling rents, which have sadly reduced landlords in my neighbourhood to such penury that they must let premises out to shops that residents might find useful. Three have sprung up in recent weeks.
The Filipino place should be open now. Last I saw, they were stacking shelves with tons of garishly packaged chips and other snacks. We can probably also expect tamarind candy, fresh calamansi, and perhaps those not-exactly-compelling duck-embryo eggs.
The 'Wing Gai' store (next door) carries an opportunistic selection of goods, including flour, exotic cheap beer, some frozen stuff and of course more junk snacks.
Best of all (at the eastern end of the road) is Shop Easy, which is in fact an Indian store. It has ghee, paneer, poha, fresh produce (like green chilis), incense, dubious brands of whisky, and – downstairs – all the spices and dry goods you need.
If this is happening in Caine Road, it must be at least as good in other districts. All made possible by what officials bemoan as an economic crisis.
A selection of reading material for the gentry…
A quick thread on the history of the Milk Tea Alliance – from silly meme to international alliance. (And from The Nation, a lengthy but pretty good explainer on the background to Thailand's uprising, including comparisons with the protests in Hong Kong.)
Tanner Green in Palladium – Belt and Road as a label for projects SOEs would have wanted to do anyway…
Poor investments that would have once drawn criticism, or at least extra scrutiny, by observers in China were now given a free pass, as few Chinese would risk tarring an initiative [Xi Jinping] had invested so much of his personal prestige into. Outside China, in contrast, critics would now credit sloppiness or malfeasance not to the failings of individual SOES or financial consortiums, but to the malevolence of the Chinese government.
One observer responds that it is now starting to be run more tightly
On the subject of back-firing, the Diplomat on how Beijing's obnoxiousness is increasing regional public sympathy for Taiwan…
…especially in Southeast Asia and India, because most have now experienced some form of coercion from China. 
…China's sensitivity about Taiwan provides a ready handle for others to retaliate for unfriendly Chinese behavior. 
The Hill on how elite capture and United Front work have done such an effective job of disguising China's threat to the West.
From Standpoint, Xi's impatient war on religion.
And Bloomberg notes Taiwan's impressive fight against Covid…
So far, about 340,000 people have been under home quarantine, with fewer than 1,000 fined for breaking it. That means 99.7% have complied, according to Chen. "We sacrificed 14 days of 340,000 people in exchange for normal lives for 23 million people,"