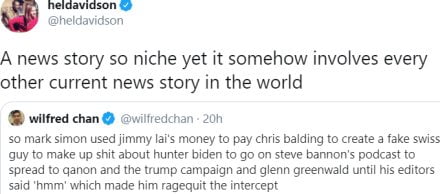 The arrests of (mainly moderate) pan-dem lawmakers is hardly surprising. As clear winners of majority support from voters, they have a mandate the government clearly lacks. A flexible colonial ruler might consider absorbing them into the power structure – but instead they are living proof of the system's lack of legitimacy. They expose the government's shortcomings while occupying public office, and the new NatSec order does not permit such liberties.
Participation in the joke legislature is futile: whatever you do, you are playing into the CCP's hands. Meekly accept the rigged rules, and you play into their hands. Make a fuss and fight back, and you play into their hands.
And what on earth is the Public Order Events Investigations Squad anyway?
Worth watching: RTHK Hong Kong Connection's interviews with family members of the HK 12, with English subtitles.
Perhaps worth avoiding: non-Twitter users have been largely spared, but users of the 'hell-site' are recovering from a massive mouth-froth eruption over the Mark Simon/Christopher Balding/Apple Daily/Jimmy Lai/Hunter Biden uproar mayhem scandal. Villains of the piece are the Next Media company gwailo (now – like some others in that noble profession – retired) and the former Shenzhen/Vietnam-based economist. 
Looks like they were so besotted with Donald Trump – and so in tune with the Republican Party's apparent need to cheat in this election – that they concocted a harebrained scheme to make Joe Biden's son look slimier than he really is. (Update: an explainer.)
While the attempted smear is aimed at a US audience, it resonates in Hong Kong, where many people hate the CCP, observe Joe Biden's 'senile Panda-hugger' persona (and overseas leftists' 'soft on China' leanings) and conclude that they should support Trump. Lai himself, for example. It's all a godsend for the pro-democrat media tycoon's local detractors.
For relief, surrealist video artist Vic Berger comes to the rescue, via Vice. They call it a 'cinematic exploration' of President Donald J. Trump. Others might describe it as a deranged medley of clips with special sound and other effects. Hallucinatory mushrooms recommended.
(Can't help thinking of the work that went into making it. Is there a really user-friendly on-line video editing app? Hong Kong needs something like this.)
Berger also did one on Jim Bakker and Covid, and did lots more on Bakker because, seriously, how could you not?