At around the halfway point on Hong Kong's journey from an open society to a banana-republic dictatorship, even the government has a hard time adjusting. As a puppet administration, it must impose oppressive policies; but the people are still free enough to speak out, and the local officials can't shake off their old habit of making at least a pretence at listening and responding to them.
So there won't be any public consultation on the plan to let Hongkongers over the border vote in Legislative Council elections. (It's a CCP decision – of course there won't be.) But independent media and pollsters still operate, and they confirm that popular opinion is against the obvious electoral gerrymandering. One day, the regime will simply silence such impertinent suggestions. But for the time being, the government must try and argue that the poll is wrong. And pretty pathetic it looks.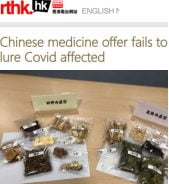 It's almost as lame as health officials claiming that they can't draw any conclusions from the fact that only 9% of recovering Covid patients accept 'traditional Chinese' (ie non-science-based) medicine, even when it's shoved in their faces free of charge. The authorities can't admit TCM is baloney, because the CCP regards its use as patriotic; but the public are free to point out how dumb it is for the government to pay for voodoo treatments, and the officials struggle for a coherent response. For now.
As we speak, 19-year-old Tony Cheung is due to appear in court, after being arrested (or re-arrested) on suspicion of sedition along with Yanni Ho, aged all of 17. The CCP are so afraid of 17-year-old Hongkongers they must threaten them with life imprisonment. 
They must also order your friendly local National Security Police to launch a snitch-on-anyone hot-line. The SCMP's anonymous government source assumes that the city is full of loyal law-and-order freaks itching to inform on evil dissidents in our midst. Not sure how easy it will be to leave information anonymously. Obviously, such a system is ripe for abuse by malicious accusers – but it works both ways. The potential for 'well-intentioned' creative, theatrical, karma-serving or other tip-offs to the Stasi could be considerable.