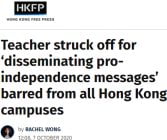 The teacher deregistered for corrupting young minds with non-CCP ideas is barred from all school campuses. It looks as if Beijing's officials are demanding maximum punitive melodrama in handling this case, and the Education Bureau dreamed up this sex-offender-type sanction because tattooing 'Danger to child safety' on the corruptor's forehead is a bit too CY Leung.
And Hong Kong U's boss fires (or does not renew the contract of) a renowned disease expert, Keiji Fukuda. The university has lost a string of people in this field recently, and it looks like a political purge. HKU has also announced a new motto – 'Better Red than expert'.
To add to the banana-republic ambience, Canada is giving Hong Kong dissidents asylum as political refugees. 
And investment website Motley Fool pulls out from Hong Kong, with a guarded warning against holding too much Mainland/HK in your portfolio.
Just another normal day in Hong Kong, 2020.