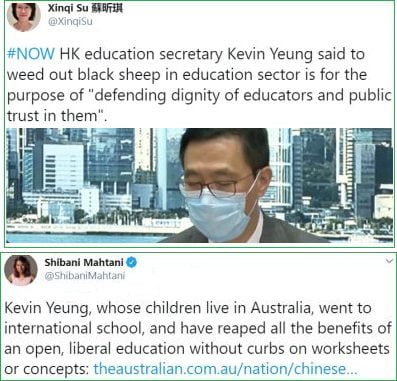 The Government Flying Service monitored 12 protesters as they left Hong Kong waters on a speedboat (see flight-tracker maps showing aircraft circling at low altitude). Rather than intercept the craft, the Hong Kong authorities left it to be picked up by Chinese authorities for illegally crossing the maritime limit.
Beijing can now make an example of the 12 in a CCP-run court, where they are likely to face harsh penalties. This will only further alienate many Hongkongers. But I'm not sure I get the outrage over the Security Bureau's collusion with Mainland forces. Whose side do you think the Hong Kong government is on? (Or are you shocked that the cops lied?)
The real lesson is about the difficulties and dangers of trying to abscond from the city – or otherwise avoid persecution.
If you need more evidence that the Hong Kong administration is simply an extension of the CCP, education officials have barred a teacher for 'smearing the country' and 'seriously damaging students' with biased and inaccurate information. (Reportedly, the case was dropped earlier this year but resumed after passage of the NatSec Law.) See here for a dastardly pro-independence worksheet handed in by a student – officials struggle to sound convincing, but the main sin seems to be mentioning subjects like free speech without an overt pro-Beijing angle.
As well as deregistering the teacher, the People's Education Bureau has reprimanded the principal and other staff for weak supervision. As with the 12 arrestees, this is about making an example and spreading fear – except it will be among tens of thousands of teachers. Any colleague, student or parent with a grudge can now ruin a teacher's life with one call to the Gestapo.