Seven million people faint with shock on hearing that the Lantau reclamation will benefit developers rather than people.
The Hong Kong government can't/won't extricate itself from the trap of seeing land as a source of revenue for itself rather than as a vital resource for the population and economy. All governments compete with the population and economy when they demand a slice of our money, but – rather than raise it through broad-based revenue streams like income and sales taxes – Hong Kong sucks a huge amount of wealth out of the economy through land (all of which it owns). This system works best if you engineer a perpetual shortage of supply of (and thus high-priced) housing and business premises. The bizarre part is that, spread out over recent decades, most of the land revenue is surplus to requirements anyway, so it just adds to fiscal reserves.
The model, which dates from the 1840s, depends on the Hong Kong economy profiting from valuable arbitrage (or 'skim') opportunities, inducing companies and people to pay anything to be here – think tourism (Mainland shoppers) and finance. But the city's advantages in those activities are not guaranteed. If Beijing cuts domestic taxes on luxury imports, the Mainland shoppers have no reason to come here; without rule of law and a free press, finance and other sectors move out. The bureaucrats calculating miraculous financial win-wins from reclaimed islands are assuming nothing will change.
Asia Times reports that Beijing wants its own mega-reclamation project for Hong Kong, off the south west of Lantau. 'In time for 2047', whatever that means. Sounds even crazier than the Hong Kong government's Greater Peng Chau plan.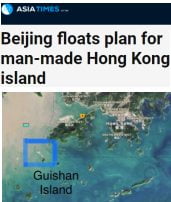 The official conspiracy theory is that this will enable Beijing to sideline the local developers and provide affordable homes. This makes no sense. The developers are as much an effect as a cause of the housing problem. And wouldn't it be cheaper for the CCP just to shoot them or otherwise shove them aside? They're not gods. That said, this idea does have a tremendously unsubtle, Beijing-tinted hint of infrastructural and social-planning force majeure about it. Two questions. Who would live there? Who would pay for it?
Some worthwhile reading in case you missed it…
Aaron Mc Nicholas looks back on the first 100 days of the NatSec Law. And does some more digging into the Government Flying Service's role in tracking the 12 activists who ended up in the Mainland (hint: the cops ordered it – and we know who runs the cops).
Also on Twitter – couldn't agree more with this take on the fate of the 12. Beijing could have just sent them back to Hong Kong and won a little 'hearts and minds', but instead the CCP just can't resist its basic thuggish instincts, and is giving the protest movement a new cause.
A quick update on Celestial Empire affairs. Laos pawns its electricity network to Beijing. China seems to be moving into a Cambodian naval base. And a lengthy study of Serbia as a client state of China.
Public opinion on China in free developed countries has plummeted – and not by statistically insignificant margins of error. This is the Xi effect, not the Trump effect.
Michael Pettis looks to the icon of development economics for lessons on China's dilemma – reform or stagnate.
And a valiant attempt by a Scot of Hong Kong descent to compare and contrast Glasgow's deep-fried culinary depravities and the New Territories' festive communal poon choi…
…the munchy box [try Google images if you dare] simultaneously encourages the hungry consumer to engage with Glasgow's diversity of cultures and also works against the idea of 'authenticity' within those same cultures … A 盆菜 meal is a very direct cultural memory of the now-empty walled villages, with those-who-were-left-behind and those-who-have-returned, with a way of life mostly extinct today due to migration. 
The main difference (to me) is that poon choi traditionally was a luxury in a mainly poor society, while the Glasgow munchy box is down-market trash-food in a rich country. The main similarity is that both have known health risks.