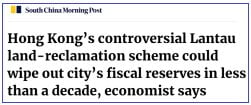 When I said yesterday that the Hong Kong government seems to have momentarily exhausted its stupidity, I meant Mainlandization-type stupidity – not the regular pre-2019 sort. Like cosmic background radiation left over from the big bang, standard traditional old-style Hong Kong government idiocy is all around us.
The latest relaxation of pandemic measures opens up gyms, pools and bars – but beaches and playgrounds are still shut off behind barbed wire and minefields. A widely believed theory is that it's because the tycoons don't own beaches. Another explanation is plain nastiness and spite towards the public. Or, maybe it's just cosmic background stupidity.
The Lantau mega-reclamation is apparently still on. I've been skeptical that it'll ever happen. Not least, it will deplete the reserves, which our bureaucrats have always seen as their personal piggy bank, especially to cover their pensions. But I can see why Beijing might like it as a way to transfer the reserves to state-owned construction companies and create more space for population-diluting Mainland immigration.
The government sticks to its contradictory logic that the massive reclamation can solve housing affordability yet pay for itself through land sales. The idea seems to be to 'decant' – yes, that's the official word – riffraff residents from Kowloon and free up downtown land for the developers. This presumes that Hong Kong real estate will continue to enjoy its magical ultra-high valuations even as the city's advantages fade into Greater Bay Area grey. (It also goes against the bureaucrats' instinct to maintain the mythical 'shortage of land' that props up land values by not allowing the population or wider economy to use most of it. Could the magic money machine survive a genuine increase in supply?)
In order to minimize any chance that Hong Kong might retain some competitive edge from its quality of life, the Anti-Pedestrian Department goes full-on psychopath with the metal barriers that line sidewalks – to the extent Bloomberg makes a story out of it.
Elsewhere…
Your daily Mulan-butchering: Benedict Rogers focuses on the human rights angle.
Michael Pettis (compulsory reading on these things) explains Beijing's economic options.
And the CCP scores another dazzling soft-power victory by getting Taiwan's bird-watchers ejected from the International Federation of Feathered-Friend Fans. (It goes without saying that, as if its food, scenery and lifestyle aren't enough, Taiwan has amazing avians.)