Hong Kong's real and puppet governments seem to have exhausted their reserves of stupidity. While they're recuperating before the next onslaught of Mainlandizing, we have more Mulan amusement.
Cruel-But-Accurate (probably) Attack on Mulan of the Day Award goes to New Yorker – which describes the epic as an 'Americanized celebration of Chinese nationalism'.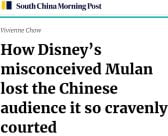 Vivienne Chow in the SCMP doesn't like it either, noting 'bland characters who convey little emotion, [lead actress] Liu's unbearable emotionless performance, and choppy editing and scriptwriting that make the film painful to watch'. And the flying-through-the-air stuff was terrible. That's the good side. The worst bit is the movie's treatment of qi. (I'm not sure if there can be a 'correct' treatment of the supernatural force known as qi, but no doubt you can do a really bad one if you try, and Disney seems to have pulled it off.) 
The funniest part of all this is that Disney involved Mainland censors and other advisors in the project, so the bad takes on Chinese culture must partly be due to the CCP. Beijing's state press (as Chow points out) was at one stage strongly supporting the film. After it started to attract so much bad global publicity – notably of course concerning genocide in Xinjiang – official media started to criticize it, along its own nationalist anti-foreigner lines. Everyone is learning from the experience.
Quick quiz: which Hong Kong political figure's in-laws took legal action to try to stop her from marrying their brother? Put yourself in their shoes and take a guess – you'll probably be right.