Hong Kong Chief Executive Carrie Lam is suffering an average of one horrible mess per day so far this week. So, about average.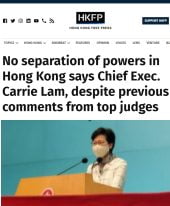 Separation-of-powers-Gate stirs not only pro-democrats, but the government's own supporters. It's not every day pro-Beijing figures put serious effort into making sense – but they're doing their best. New Territories lawyer/lawmaker Junius Ho says the three branches of government are separate, but not really. While Ronny Tong lapses into mysticism, claiming that it's 'an argument about nothing and depends on your perspective'. Only the guileless Priscilla Leung suggests that the principle has been a chimera all along, and the CCP rules over all.
Meanwhile, the HK Police's problem with the 'pregnant object' in Mongkok two days ago has officials scrambling to sound concerned about a civilian victim while not in any way criticizing undisciplined cops' rampaging in the streets. Thus Carrie Lam's feeble hand-wringing pushing blame away from the cops. For a more robust line, Globular Times theorizes that the pregnant woman knocked to the ground by police was all an act staged by evil splittists, presumably funded by the CIA – 'to smear police, which is their old trick'. Saying sorry, we screwed up just isn't an option.
At least these excitements are distracting from the so-far modest turnout for the government's mass-virus-screening thing. People are staying away because they genuinely fear the CCP will gather up their DNA, or because they at least want to send a message along those lines, or they've read the medical experts' skepticism about the exercise, or they don't want a giant Q-Tip stuck up their nose.