An article by a Hong Kong medic about police dragging injured people out of hospitals. (Some more here.)
The crowdfunding campaign to prosecute Brits serving in the force for human-rights abuses has reached its target. (Apple Daily report.) Not sure how this extraterritorial UK law works, but could the valiant overseas inspectors conceivably end up in exile?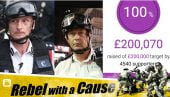 In which case, will the CCP give the expat cops Chinese citizenship when they retire? Maybe, like other former loyal and trusted cadres and national heroes, they will be allocated housing in a special compound where they and their families can live out their days in modest comfort. If not in fancy Shenzhen, at least some suburb of quiet Zhaoqing. And of course, in recognition of their service to the motherland, they will qualify for state commissary perks – perhaps a regular supply of Heinz baked beans and frozen fish fingers with lashings of ketchup. 
Will they convert to their new homeland's ceremonial ways and don medals for National Day parades? Or will they secretly continue to celebrate the Queen's birthday behind closed doors? There's a moody, gloomy novel here – Kingsley Amis's Old Devils as rewritten by Graham Greene.
I was brought up on dusty back-copies of National Geographic, which was typically full of long illustrated features about how the modern world (literacy, cars, TV) was encroaching on and eradicating the cultures of jungle- and mountain-dwelling tribes in New Guinea and the Amazon. It's jarring to see the magazine now doing Hong Kong loses its way of life.