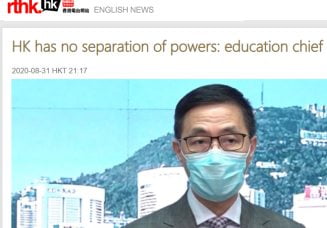 Education Secretary Kevin Yeung boldly declares that the previously undisputed school textbooks were wrong: they should never have said Hong Kong has a system of separation of powers.
This puts him at odds not only with the textbooks, but with public opinion, many lawyers, CCP-run newspaper Ta Kong Pao and the Chief Justice. But…
While certain clauses of the Basic Law appear to guarantee separate executive, legislative and judicial branches, other parts make it clear that the three branches' autonomy is subordinate to the 'executive-led' system, which ultimately means Beijing, which appoints the executive. The key example must be the 'interpretation' device by which Beijing can overrule Hong Kong's judiciary by redefining the words of the Basic Law. 
As I said a few days ago, back in the 1990s-2000s Beijing was happy to let you think you have separation of powers. Now they want you to get the message that you don't.
As with any legal or constitutional dispute with the CCP, they decide what is true. They are above laws or rules, while you must obey them – and they can change their meaning at any time. But doesn't this mean the Basic Law is worthless, and that we don't have an independent judiciary? Yes it does.

In a move likely to provoke a big whiny hissy-fit Panda-tantrum about hurt feelings and being the enemy of 1.4 billion people, a Czech parliamentary delegation has the audacity to visit Taiwan. Global Times dismisses the central European country as obscure and irrelevant, while nonetheless denouncing its Senate speaker as 'a rule-breaker who is trampling on diplomatic civilization. His gilding for his evil deeds is a manifestation of being a political hooligan'. China's foreign minister, in Europe on a warm and fuzzy charm mission, says they will make him pay with lashings of retribution and revenge, so there.
The Czech government is pissed off. And here is an alleged reply from the mayor of Prague. Hope it's authentic.
Fans of extreme mouth-froth will be delighted to hear that Yonden Lhatoo of the SCMP has responded to Atlantic's unflattering coverage accusing him of having unseemly rants, with… an unseemly rant.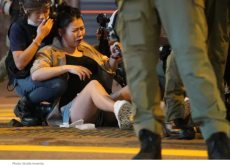 Hey, it must feel good knocking a pregnant woman around in the street – it's been a while now. Sorry, I stand corrected: wrestling a pregnant woman to the ground.