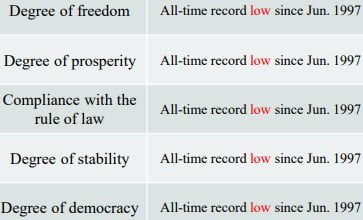 If you want to read the phrase 'All-time record low since 1997' over and over, check out the latest PORI opinion poll on Hong Kong social indicators.
The numbers still have room to fall lower. Perhaps with that in mind, Hong Kong education authorities get down to sanitizing school textbooks for the 'liberal studies' course that patriots blame (along with the CIA) for civil unrest. Among other things, some revised teaching materials remove references to 'separation of powers'. This prompts much indignation.
The Basic Law appears to describe separate executive, legislative and judicial branches, but Mainland officials have always stressed the 'executive-led' nature of the system. Mainland political theorists of course reject separation of powers as a dangerous Western idea.
In fact, the small print of the Basic Law indicates that Hong Kong's three branches slot into the national Leninist unitary system. The Legislative Council has only feeble powers of oversight, plus a rigged composition that gives Beijing an inbuilt veto. And, although local officials since 1997 have boasted of judicial independence, local court decisions can be (and have been) ultimately overturned by 'Basic Law interpretation' in Beijing.
Back in the 1990s-2000s, Beijing was happy to let Hongkongers think they would have separation of powers. Today, the CCP wants you to stop kidding yourselves.
Under the new NatSec regime, LegCo is clearly destined to be a pure rubber stamp accommodating only a 'loyal opposition' that excludes even moderates like Kenneth Leung. (Pan-dems opposing a boycott should consider that if their continued presence in the council could make a damn difference to anything, it would not be permitted. The main impact of staying or boycotting is psychological – by quitting, you undermine the body's claim to legitimacy. In case you're still not sure, pro-Beijing figures want pan-dems to stay on.)
As for the judiciary, many judges now show a willingness to swallow the most absurd prosecution arguments in protest-related cases of 'riot', 'offensive weapons', 'incitement', etc. And we now have a parallel court structure for NatSec (aka 'anything') cases, which could encompass closed trials, trials without a jury, or even transfer of cases over the border to televised confessions-land.
So – good news! In one respect at least, the new-look school textbooks are accurate, and not propaganda.
Some worthwhile links on the plight of Hong Kong today…
In Foreign Policy, a call for ground-level analysis of Hong Kong's fight for its freedoms – as opposed to the macro- views that try to wedge the city into 'Trump vs Xi', workers vs capitalism, Black Lives Matter, imperialism or other global conceptual frameworks. International parallels (Thailand, Belorus) are obvious, but the Hong Kong movement is primarily a fight to preserve local identity and values from a hostile and alien CCP.
Howard French (Everything Under the Heavens) on why Beijing will regret crushing its only free city. It includes some annoying cliches ('golden goose') and errors (Shenzhen's per-capita GDP is nowhere near close to Hong Kong's). But he makes the main point – bewilderment at how demented the CCP must be to kill off such a vibrant and successful community – vividly…
These are the actions of a brittle and insecure system that is trying to cover up for the fact that it is haunted by the existence of a democratically run Chinese city, which it sees as a threat to its own increasingly rigid authoritarianism…
…It now seems more unlikely than ever that Taiwan would ever willfully and peacefully agree to reunify with China. But so too does the idea that China might boast a truly global city anytime in the foreseeable future—a place where people from every horizon can come and go freely, no matter who they associate with and how they express themselves.
In the Guardian, on the other hand, Ilaria Maria Sala disputes the notion that the NatSec Law reflects CCP weakness.
(If you missed it, the Sinopsis article by Didi Kirsten Tatlow on the 'repurposing' of Hong Kong is now on HKFP.)
And in China Heritage – 'Martyrs for a Cause' by Lee Yee, about Jimmy Lai, translated by Geremie Barmé (who as usual provides a discursive introduction – this one referencing Professor Xu Zhangrun's 'Legalistic-Fascist-Stalinism' phrase for China's current political system). The article explains how phenomena like Next Digital's share-price hike and boost in sales are a form of protest, mentions that Beijing's clampdown is stirring up more resistance, and offers the hugely entertaining and delicious possibility of Jimmy Lai winning the Nobel Peace Prize.
Speaking of delicious, from HKFP – how US sanctions can affect Hong Kong officials.