This week's episode of Banana Republic was brought to you by: Teresa Cheng killing a private prosecution by pro-dem Ted Hui for the second time this week; and plain-clothes police grabbing a young woman off the street and into an unmarked car – apparently for suspected 'access to a computer with dishonest intent'.
How things have changed. Would you believe there was a time when recently-and-frequently-arrested pro-democracy media boss Jimmy Lai served as a high-calibre speaker at a Hong Kong Police senior command course? (Scroll down to bottom story – just above the 'copyright 1997' thing.) The cops also invited Democrat James To and Amnesty International. What a difference the CCP makes.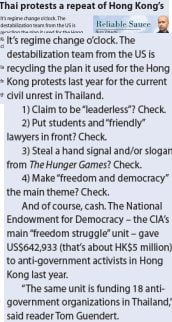 By accident this morning, I see Nury Vittachi's so-ultra-left-it's-far-right theorising about the CIA supporting the protest movement in Thailand. For as long as I can remember, Thailand's monarchist-military regimes have, if anything, been propped up by the US. Why would the CIA try to engineer regime change there? Also, for as long as anyone can remember, those regimes have been corrupt and oppressive, extracting wealth from the population through such scams as loan-sharking to rice farmers (to take a small example). It's not beyond the realms of possibility that the people are angry and have made their own minds up that their country should be run more fairly. 
It's hard enough to understand why self-styled Marxist tankies find themselves siding with dictatorships. How does a columnist in a Hong Kong paper fall into such intellectual, logical and moral confusion that he thinks the victims of King 'poodles and babes' Vajiralongkorn and his generals' misrule are in the wrong? What does he get into next – QAnon?
A variety of (sounder) reading material to wrap the week up…
Sinocism has republished John Garnaut's speech on ideology in Xi Jinping's China. If you've never read it, do.
A group of nine NGOs (who knew there were so many – fat CIA budgets, I guess) sign a statement on the arrests and harassment of journalists in Hong Kong.
In Atlantic, the (Hong Kong-born) director of Freedom House explains how it feels when China puts you on its Big List of Nasty People We Don't Like. 
It is a bit disorienting to wake up early expecting to go out for a walk, and find that you have been personally targeted for sanctions by the most powerful authoritarian state in the world.
Fans of cartoons – especially basic ones apparently done on a smart phone on a bus – will like this.
Rest of World on Hong Kong's future as a data hub post-NatSec Law.
At the mundane end of the spectrum, TransitJam reports that officials are demanding that HKU convert a welfare office to parking spaces. While other cities learn from Covid-19 experience and expand things like bicycle lanes, Hong Kong – as the CCP destroys its main advantages as a business location – focuses on reducing basic quality of life.
On cinematic matters… Why do people in Hong Kong hate Jackie Chan? Let me count the ways. (OK, you know already – but Vice lay it all out for a global audience.) And for some reason the Chinese public are unhappy with the poster for Disney's Mulan. Apparently, it looks 'too 2000', which is a Bad Thing. So even the Mainland is going to boycott it.
Not a movie – but maybe it will be one day! The Heritage Foundation (pinch of salt advised) on the possibility of the Three Gorges Dam bursting.
A slightly tongue-in-cheek essay on the difficulties of learning (basically reading and writing) Chinese. By David Moser when he was still a student (he's now a distinguished sinologist). Daring in that it uses non-academic words like 'stupid' to describe things like the system of characters. (He later found digital methods a relief.)