Can Hong Kong fight Covid 19 effectively when Beijing is ordering its puppet administration to focus on battling political opposition?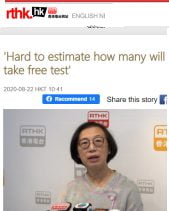 The authorities have already weaponized social-distancing regulations against protesters while leaving more obvious infringers alone. And of course, the LegCo election is postponed for at least a year on flimsy virus-related grounds, even though other life goes on as usual. (Is a day of gatherings to vote any different as a health risk from everyone's weekly supermarket visit – entering a crowded building and standing in line for a few minutes?) Aside from undermining rule of law, this abuse of the rules sends a message that the government doesn't see a genuine health risk. 
Now we have a proposal for a health code scheme, which some local medical professionals warn is a move towards China's social credit system. Sensible people do not indulge in conspiracy theories. But do you really believe the CCP would not exploit a health policy that could serve as a cover for increased surveillance and control over the local population?
This puts a sinister slant on the government's eagerness to test millions of people for the virus. Is the public's skepticism paranoia or summon sense? Especially when the screening of care homes – surely a prime target for such an exercise – is mysteriously 'not practicable'. And extra especially if they try to threaten everyone to give samples.
The point is that, even if the government sincerely formulates a good policy (say, mass shots when an effective vaccine is available), so few people will trust officials that they will resist it anyway, and community health will suffer. The CCP, of course, couldn't care less.