Trade publication PRovoke Media has the latest on the Hong Kong government's desperate attempts to improve its (or, officials would say, the city's) international image.
Saudi-advising mayhem-management agency Consulum has (presumably) splashed some money around and attracted three communications professionals to join its Hong Kong Mission Impossible team. 
One, PRovoke says, has been boss of 'strategy and communications' for the English Schools Foundation. That's a legacy schools system founded for expat colonial officials' kids, now in constant controversy as it tries to balance an overpaid staff, a drop in public funding and the demands of whiny parents. He was also media advisor for a police force in Scotland.
Another is an ex-SCMP staffer who, interestingly, also did PR for the fuzz – in New South Wales. One person with experience working for the cops is a coincidence; two looks like a theme.
The third ran communications and government relations for AmCham – a function that suggests pretty serious shoe-shining of officials – and once worked for the Hong Kong government's Central Policy Unit, which in post-colonial times drifted from research towards propaganda. Sounds a bit 'gamekeeper-turned-poacher'.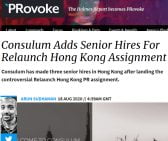 I don't know much more about the individuals* – except that we are all prostitutes really, are we not? (Why do I picture the three as seeing this as a last lucrative gig before fleeing Hong Kong?)
But it looks like an adequate team-assembled-in-a-hurry by an agency grabbing some easy money and to hell with what more fastidious quarters of the PR industry think.
Other agencies avoided pitching for this job because they feared for their image. Communications advisors like to see their role as potentially heroic, speaking truth to power and convincing problematic clients to mend their ways rather than sweep dirt under the carpet.
That isn't possible with this account, as the client is a collection of cowed bureaucrats (also no doubt desperate to flee the city) who must feed their own bosses in Beijing a load of phony hogwash. There is no point in telling Carrie and Co how they can restore their credibility when the only audience that matters to them is the CCP, which demands their total obedience and insists its Leninist thuggishness is inerrant and perfect. (And don't even think about telling the Hong Kong Police how to redeem themselves, unless you want a face full of pepper spray.)
Someone once said you can't sell shit as sugar. Where the CCP is concerned, if you even dare suggest the 'sugar' might be shit, you get the Cai Xia excommunication treatment.
*Though one has the same name as the guy who wrote the unique 'Dystopia' column at the Asia Times back in the late Ming Dynasty.