Yesterday was a Hong Kong banana-republic day: NatSec arrests of Jimmy Lai and family and colleagues, plus separately of 23-year-old Agnes Chow and of Wilson Li; hundreds of cops searching Apple Daily's offices; and (among various tightening press restrictions) a creepy HK Police policy of admitting only 'trusted' media into briefings.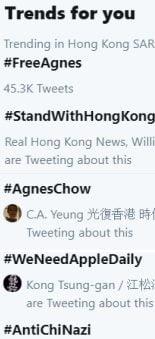 This exciting new 'trick', as Commissioner Tang puts it, excludes most sources with credibility, like RTHK, Reuters and AP. If other public-sector organizations abandon normal PR practice like this, it points to greater restrictions on access to government information generally. Not a high priority, but when the CCP's new parallel administration notices Hong Kong's relatively high level of official transparency (non-flattering economic and social statistics, for example), it will come as a shock.
The Foreign Correspondents Club's complaint about the raid on Apple Daily earns a prompt slap on the wrist from Beijing's officials.
The arrests seem to be linked to alleged calls for overseas governments to put sanctions on Hong Kong officials. The irony is that they will increase pressure on more countries to follow the US's example. It will also encourage an exodus of overseas media to other parts of Asia – which suits Beijing fine. Making Hong Kong more like the Mainland is the whole point.
How long before the authorities start banning major media outlets online? Internet censorship, like the development of an all-propaganda local media scene, is just a matter of time.
The cops are also pressing some sort of fraud charge on Jimmy Lai – presumably to smear him as a common criminal and to drag his kids into legal trouble. This sort of thuggishness works on the Mainland. But it will just make Hong Kong more angry (and note the silence from most pro-Beijing figures right now). At some point, we will return to mega-protests on the street.
Some other things for the next couple of days…
Activists in UK are planning private prosecution of British cops in HK for torture (donations welcome). And another little ray of sunshine to warm our hearts – US Health and Human Services Secretary Alex Azar has had a nice time in Taiwan. 
Some insight into top-level CCP thinking on the whole dangerous and scary concept of a free society like Hong Kong.
Kevin Carrico in Apple Daily looks at how China extends its empire of hurt feelings (wish I'd thought of that), with reference to manipulating the right to express opinions on Australian campuses – but it could be anywhere.
On a related topic, an interesting and quite amusing round-up of Mainland academics' theories on how to improve China's 'discourse power' through media and diplomacy. They see the problems quite clearly – for example, the way freedom from political control gives Western media greater credibility (or 'the appearance' of it). Their proposals to improve matters reflect the fundamental problem. They can't suggest obvious solutions like allowing freedom of expression, but view the task as a centralized top-down engineering project.
Only if you're desperate for something to read – senior military officers from impoverished backwaters (South Sudan, Surinam, etc) gather to eulogize Xi Jinping's latest book. How long before Carrie Lam starts doing this?
And headline of the week…