The sanctions saga continues, with targeted Hong Kong officials alternately shrugging off the measures as meaningless, and angrily denouncing them as a crime against humanity. Beijing issues a hysterical outburst describing the moves as… guess what.
Here's the poster for the forthcoming movie. Carrie Lam's son Joshua – a UK citizen – seems to have abandoned his studies in the US and arrived in Hong Kong. His namesake Wong meanwhile pushes a fascinating campaign to encourage our elites to prove their love of the motherland and loyalty to Xi Jinping.
I haven't heard any expressions of sympathy for innocent bystanders like Josh Lam. I guess the pro-Beijing types don't want to admit the sanctions cause pain, while pan-dems are too polite to mention it.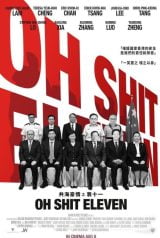 Your mother and her colleagues implicitly approved hundreds of police assaults against Hong Kong people your age, who ended up needing hospital treatment. They are complicit in trying to wreck thousands of young people's lives through arbitrary arrests and trumped up 'riot' and other charges punishable by prison. Some young activists are in exile, and thousands of families are planning to leave. If this were Burma or Congo, other countries would look the other way. But this was Asia's greatest, freest and most international city – and these overpaid-by-the-taxpayer 'elites' willingly helped turn it into a police state. Actions have consequences. And you're not alone – even the banks have to choose between non-compliance in one or the other jurisdiction.
The CCP is hanging its local puppets out to dry here. They've now arrested Jimmy Lai and others for suspected collusion with evil foreigners. He has friends in high places in the US, and such a move invites further sanctions and other measures that will make life unpleasant for Hong Kong government officials. Maybe that also goes for the specially picked loyalist judge who gives Lai (potentially) a life sentence. The Mainland apparatchiks no doubt have their own banking, education, false ID and other arrangements – and less cosmopolitan lifestyles – and can more convincingly laugh the sanctions off.
Sorry Josh, not sorry.