Christmas comes early to the people of Hong Kong this year as the US slaps sanctions on Carrie Lam and the gang.
Here's the actual Official Treasury Dept Naughty List Update. Amusingly, the Feds drop some African torture squad leader among all the Hong Kong and Mainland names – as if to say, hey, they're all tinpot banana-republic scumbags to us.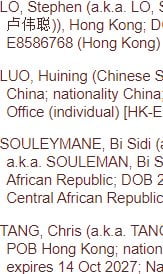 The targets, like Police Commissioner Chris Tang, put on a brave face and say it makes no difference to them. The official responses tell a different story.
In its predictably over-lengthy and over-whiny press release, the HK government 'vehemently criticizes the so-called "sanctions" as shameless and despicable'. The statement uses the petulant phrase 'so-called' four times. It also complains about the Treasury Dept releasing addresses and ID details – as it must to inform banks – as 'state-sanctioned doxxing that is a serious breach of privacy and personal safety'. The bitterly indignant tone of the whole thing suggests that someone is unhappy.
Commerce Secretary Edward Yau calls it 'savage, disproportionate and unreasonable'. He's still learning how to do this sort of thing. Mainland officials in Beijing's Liaison Office – who are experts at being pithy when pissy – denounce the move as 'barbarous and rude'.
The Hong Kong public eagerly awaits gory details of the inconveniences and humiliations awaiting Carrie and friends, who will never visit the US again and perhaps find their credit cards being swallowed up by ATMs wherever they go. Here's an intro to the system.