A UK parliamentary group criticizes the Hong Kong Police for breaking international conventions in their treatment of volunteer medics at protests. The government denies it and goes into predictable whiny petulant foot-stamping mode.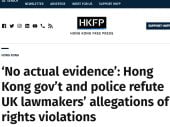 (If you like that official statement, you'll love this little one lashing at social media posts 'creating issues' with fake news. The Hong Kong government has for years, of course, assiduously avoided ever 'creating issues', let alone spouting falsehoods.)
Presumably with a view to solving 'issues', the authorities pile heaps of petty charges arising from the June 4 vigil onto every activist they can think of. (RTHK report.) The alleged offenses have nothing to do with the NatSec Law, but the round-up is certainly in the same spirit and intended to add to the overall ambiance: no-one is safe, and the cops will spare no effort in dredging up the flimsiest reasons to arrest and intimidate. 
With big names like Joshua Wong and Jimmy Lai involved, this will attract more international attention. In its obsession with keeping itself safe from the Dreaded Hong Kong Teenager Threat to the Nation, the CCP encourages such measures as Magnitsky Act sanctions or visits by Western cabinet members to Taiwan. It's all linked. I know some people find Joshua Wong slightly annoying, but he does seem to realize this – and is prepared to be put in jail as part of the process.
If I had to make a prediction, I would say the next big (2019-style) street protests will be provoked by the imprisonment of pro-dem grandees including Martin Lee or Margaret Ng on idiotic 'subverting the state' charges – if Beijing is dumb enough to order it.
In Mekong Review, Kong Tsung-gan offers a full analysis of Hong Kong's new regime…
…the edict is not a law in any normal sense of the word. Nor does it have anything to do with national security, again in any normal sense of the word. It is entirely a misnomer. It is an imperial edict imposed by the rulers of China upon their colonial subjects…
As mentioned above…
…the edict and the already ongoing crackdown on the freedom struggle intertwine.
Some more interesting reading… 
Nikkei Asian Review finds evidence to suggest that China's Chairman-for-Life Xi Jinping may really mean it – and stay in power through to 2035. (At least, I would say. Nothing more pathetic than someone who has to go around introducing himself as 'former Chairman-for-Life'.)
Not news, but Hollywood is self-censoring to please China. 'Appeasement means profits'.
And (after U of Queensland, if you're following these things) another Australian university becomes an arm of the CCP's United Front. Obviously, this comes down to money, but it's fascinating to see how personally invested some university officers have become in the big win-win Panda-suck friendship thing. Eeewwww… this is humiliating.
New Statesman explains (slowly, using easy words) to leftists why they should oppose China's human rights horrors even if it means taking the same side as the evil imperialist West.
Plucky little Romania produces a precisely crafted list of conditions for 5G equipment suppliers, almost as if they had someone in mind…
…companies controlled by a foreign government, that don't have a transparent ownership structure, have a history of unethical corporate behaviour or are not subjected to an independent justice system in their home country, are not eligible.
(As a teenage pioneer-explorer in the late 70s, I hitch-hiked through Romania en route to Istanbul. The greatest impression the semi-medieval country made on me was empty shops and a massively bloated, near-to-bursting, dead horse in a ditch with its legs sticking in the air. Until now.)
Fascinating background to a new book about Jewish refugees in WW2 Macau. (Includes a reference to this place – if I ever heard of it, I'd forgotten. That site is a snare. Next thing, I'm engrossed in this…
The execution chamber was considered unique in Asia in that it carried out death by hanging, with the body dropping through a trapdoor directly into the prison hospital's morgue.