Despite the rain and the gloomy skies, the neighbourhood suddenly looks brighter…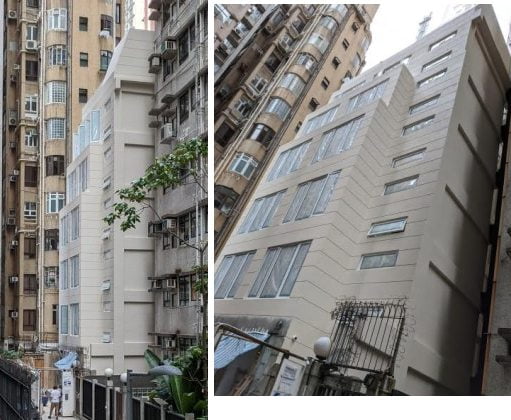 This six-floor walk-up probably dates back to the 1960s-70s. Normally, if a developer acquires a whole building like this, they knock it down and build a 40-floor block in its place – even if it's a thin 'pencil'-type structure. But if memory serves, you can't do that on certain lots (this one is at the end of a cul-de-sac, which might be the reason).
Around three years ago, the coarse blackened concrete and rusty window frames disappeared behind netting. Since then, workers have been in to do renovation occasionally for no more than a few weeks at a time. Maybe the owner is short of funds, or simply isn't in a hurry.
Now the shroud has come off, and we see a gleaming new exterior – a slight art-deco effect with a ziggurat on the roof (top of stairwell and access to roof, I guess). And much bigger windows than before.
I haven't had a proper snoop, but there's no sign of an elevator being installed, so it presumably remains a walk-up. I would guess it originally had two 300 sq ft (max) apartments per floor. Are they now studios, or knocked together to create one flat per floor (or subdivided into micro-coffins)? Does the owner plan to sell units, rent them long-term, or let them out as AirBnB? Have his calculations been affected by the unforeseeable changes Hong Kong has been through since he began the project?
Just nosy.
On more pressing national-security matters – that PLA video goes Village People's Army. And while their backs are turned…