HK01 report that Beijing is trying to disenfranchise or disqualify pan-dems from joining and voting in the Chief Executive Election Committee. This is apparently because the dems' landslide victory in the district council elections boosts their numbers on the 1,200-strong body. A clear case of CCP officials' obsessive-compulsive democrat-eradication disorder.
Although it is in theory largely formed by a multitude of small-circle elections among a range of 'sectors', the CEEC is carefully designed, to have a comfortable majority of CCP-controlled votes (NPC/CPPCC members, representatives of local United Front groups, fisheries, Chinese medicine, etc). The bulk of the remaining slots comprise slimy functional-constituency representatives who will probably vote in line with Beijing's orders but are not totally trustworthy (bankers, real-estate tycoons, etc). 
This leaves a minority of a minority representing the people: directly elected lawmakers and councilmen, plus teachers, lawyers, etc – the pan-dems. Even bolstered by a healthy crop of new district council members, their presence is purely cosmetic.
Indeed, the whole CEEC is a solely ceremonial body. The CE is decided in advance by Beijing – end of story. The Election Committee (and the nomination and CE 'election campaign' charades) are just for show.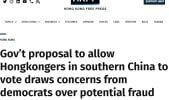 So why is Beijing so desperate to bar pan-dems from a body with no actual power, and whose composition is rigged to keep them in a small minority in any case? We see the same redundancy and overkill in Beijing's desperation to disqualify pan-dems from the Legislative Council elections when the poll is going to be postponed for a year, and perhaps additionally rigged, anyway.
The need to cleanse even inert ornamental institutions of pan-dems verges on a phobia. The CCP rewrites inconvenient players out of history. It seems determined to rewrite Hong Kong's pan-dems out of the present.
The emperor – livid at free thinkers' refusal to kowtow – orders them to be extinguished. Wait for their lawmakers to be airbrushed from past Legislative Council group photos.
On the subject of extinguishing – an update from Kong Tsung-gan on the number of protest-related arrests and trials. The courts are swamped with this stuff.
Not wanting to put ideas into anyone's head, but here's a guide (in lots of languages) to using Magnitsky acts to give human-rights abusers a bad time.