First Beijing aimed threats at exotic mist-shrouded and harmless Bhutan; now it's targeting the sturdily neutral yodelling chocolatiers of Switzerland. China extends its Everyone's Making Us Really Angry foreign policy into the most inaccessible and inoffensive landlocked mountainous nations. Plucky little Andorra is next.
Some mid-week links…
An interesting thread on a shadow parliament and other ideas for pan-dems in NatSec-era Hong Kong.
It never hurts to see your persecutors as ludicrous (eg, imagine your interrogator naked). Behold the PLA Hong Kong garrison trying to look hip and tough (or something).
If you're into intellectual name-dropping, it's time to learn more about Carl Schmitt, mid-20th Century 'philosopher of illiberalism'. The German political and legal theorist who provided deep thinking to justify the Nazis' policies has – surprise! – become increasingly popular among Chinese academics pushing the idea that Western democracy is finished and CCP dictatorship with Xi characteristics will save the world. The NYT has a good intro on the subject with reference to the Hong Kong clampdown. Here's the long, heavy background (the second half is about the CCP angle). You can now use the word 'Schmittian' with confidence.
Atlantic on how Xi Jinping has screwed up massively on the international stage…
Foreign-policy observers have long debated: What if Beijing were handed a golden opportunity to strut on the world stage, absent a more powerful United States? Would it seize the opportunity, acting for the good of all and convincing the globe of its peaceful intentions? Or would it pursue a cramped vision of national interest? The world has inadvertently run that very experiment since January.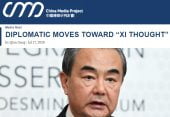 Having an Emperor-for-Life doesn't help. From China Media Project: Foreign Minister Wang Yi goes overboard (grab a sick-back before reading) in lavishing praise on Xi Jinping Thought on Diplomacy.
A reasoned, non-wacko thesis – so far as I can see – that the Covid virus did escape from a Wuhan virology lab.