Make a quick list of all the horrors from the first 31 days of Hong Kong's National Security Regime. Chances are you'll miss at least a few. HKFP count 11 – one every 2.8 days. 'Like obituaries one after the other', quotes Louisa Lim in the Guardian describing the new normal in the city…
Every day, the rules of political life are being drastically rewritten and the contours that are emerging are of a system that brooks no dissent. 
SCMP has a what-a-month-that-was wrap-up. The Spectator also joins in marking the one-month anniversary of authoritarian Hong Kong.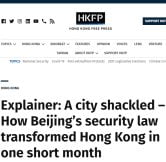 July ended with Hong Kong Police issuing arrest warrants for people living overseas (here and here), Including US citizen Sam Chu. This could provoke more of a reaction overseas than any other feature of the new NatSec system – and that's assuming the CCP aren't dumb enough to try harrassing exiles like Nathan Law, or their families still here. But why wouldn't they? Carl Minzner on Beijing coming for the HK diaspora.
One last excitement as the month ended: Director of Public Prosecutions David Leung handed in his notice, 'not seeing eye to eye' with the Justice Secretary. You may think 'at last, how refreshing to see a civil servant with a sense of justice and decency'. Or you might consider that his department has spent the last few years charging activists and whoever the police just rounded up at protests with trumped-up riot, obstruction, offensive-weapon, incitement and other charges, a la CCP lawfare.
Judging from his email to colleagues, his main complaint is over bureaucratic turf – he is being sidelined where NatSec prosecutions are concerned. What would anyone expect? The NatSec structure (NatSec HK government committee, NatSec police, NatSec prosecutions, NatSec courts) is a parallel government, all reporting to Beijing's NatSec Hotel Lubyanka-Metropark in Causeway Bay.
All this keeps international attention on Hong Kong – and thus on local English-language news media. Atlantic examines the SCMP's struggle to maintain credibility during and since Hong Kong's 2019 uprising.
A peculiar situation. At the top, senior management serve beholden-to-CCP Jack Ma, and at the bottom, dedicated reporters try to get their stories published untwisted. Between the two, a small and apparently not-very-pleasant group of senior editors are noticeably eager to ensure a pro-police/government slant. (Atlantic names names, but spares us sordid explanations. My wild guess would be that the latter group were won over by over-generous pay plus the chance to indulge in a little control-freakery.)
An early draft of an initial story about the [8-31] incident … had an opening that detailed "chaotic and shocking scenes" as officers went after "cowering commuters." That was not the account that was eventually published, though. The SCMP's edited story (which was subsequently updated) instead recounted how "elite Hong Kong police" had chased "radical protesters" wearing "masks" into the subway station.
The author's own dealings with the top management revealed Mainland-tinged hyper-sensitivity. More insider-ish comment on the story here. Wonder how much a subscription will cost when they put up their paywall?
We declare Month Two open with a solid guarantee that Mainland medical staff collecting virus test samples here will Absolutely Never Not collect your DNA. To convince you of its sincerity, the government is looking into arresting anyone who suggests otherwise.