Mainlandization du jour: like pro-dem election candidates, startups trying to register companies are now being subjected to political tests.
Fans of parallels between the roles of the police in both Hong Kong and US unrest might like this thread suggesting that Minneapolis cops went 'on strike' and deliberately left criminals free to roam in certain areas as an act of revenge against community criticism. This echoes a suspicion/theory that Yuen Long police let triad mobs terrorize parts of the town on July 21 last year to 'teach' a hostile public what happens without the oh-so important cops.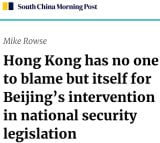 The SCMP's moderate/insipid/inoffensive op-ed columnists spontaneously announce that Hong Kong's imminent subjugation is, well, all of our fault really, isn't it? Both this one and this one say the blame lies with incompetence – on the part of local administrations, pro-Beijing politicians, the pro-dem camp, and you and me.
We are told from childhood that with power comes responsibility. The political system in Hong Kong is a top-down one: all power flows from the CCP in Beijing downwards. Beijing picks the local government. The rest of us – pro-Beijing figures with ceremonial titles or radical opposition firebrands – have no input. So how can we be to blame?
(Among the idiocies in Mike Rowse's piece: 'Who in the pan-democratic camp is advocating talking to Beijing?' No-one talks to Beijing. You either kowtow and obey, or you are the enemy. There's no third type of relationship you can have with them.)
This is a system where the people can elect an opposition but not the government. And the only constitutional role the opposition can have is in exploiting obscure rules (now being scrapped) to hinder the rubber-stamp function of the Legislative Council. This isn't – as these columnists imagine – a cause of Hong Kong's problems. Not even the incompetence or corruption of the executive branch is really a cause. These are all by-products.
A paranoid Leninist CCP at the top controls everything. It is by definition responsible when things go wrong. Beijing makes all the choices of its own free will.