I declare a well-deserved weekend open with a lot of probably-quite-depressing links, especially speculation on what Beijing thinks it's doing.
Michael Davies in SCMP on what the national-security push means for Hong Kong's rule of law…
…the central government is now seeking to force through a law that aims to control or intimidate its critics…
Bloomberg goes over LegCo and other events in last few months to put the national-security move in context: opportunism, panic, but perhaps most of all blind frustration that the emperor can't do what he wants in Hong Kong…
"They've got two guys who are totally not familiar with Hong Kong issues, and who have governed provinces in China in a heavy-handed way and think they can do the same in Hong Kong," said Kwok… "They want to use a new strategy of terror, fear, attacks, criticism, direct intervention."
In the Guardian, Ilaria Maria Sala and Louisa Lim note how hasty it seems…
…one measure of the speed with which these measures are being rushed through was [Carrie Lam's] answer at a press conference to the question of who would be responsible for enforcing the law. "I am unable to give you all the details today," she said…
Another sign that local officials had little warning is the backdrop to the presser: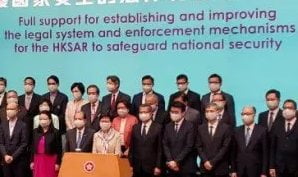 The wording was cut-and-pasted from the official NPC motion. If local officials understood it, they would have thought up something at least slightly zippier. But they know no more than the rest of us – so just played safe and reproduced the Beijing jargon.
What Beijing has done is to reverse last summer's humiliating defeat over its failure to have Hong Kong enact extradition/rendition measures…
Similarly, from Kong Tsung-gan:
Also… the regime is doing it now to punish us for embarrassing it so badly in front of the whole world. To show the world who's boss. This isn't just an emotional but also a strategic response: the calculation of the hardline dictatorship is that you can never allow yourself to show weakness…
(From the same author: some anecdotal tales of resistance.)
The Jamestown Foundation's John Dotson (before this week's NPC meeting)…
Senior CCP officials likely believe their own propaganda about foreign subversion in Hong Kong, and are clearly concerned that unrest (and the example of open protest) could spread to other regions of China.
An extract from Jeff Wasserstrom's Vigil: Hong Kong on the Brink…
Carrie Lam's position in the current crisis is comparable in some ways to that of leaders of East Germany and neighbouring states decades ago when they were confronted with popular protests. She claims to represent the people … but her actions have been shaped, as those proxies to Moscow were then, by signals sent from a capital hundreds of miles away. One reason there was no crackdown on protests in Leipzig and East Berlin thirty years ago was that Mikhail Gorbachev had made it clear that he was not in favour of … a 'Chinese Solution' to the problem … The result was an end to Communist Party rule in East Germany …  Xi Jinping, like his immediate predecessors, views Gorbachev as someone who took the wrong course of action.
In Citizen News, Regina Ip's old MA supervisor Larry Diamond…
[The CCP] never intended to allow "gradual and orderly progress" toward democratic, universal suffrage in Hong Kong, because they lack confidence in their own system, and they fear that if Hong Kong were to become a democracy that it would also become a very appealing model for the rest of China.  So what they have sought all along is "gradual and orderly progress" toward "one country, one authoritarian system."  Now they are tired of the "gradual and orderly" part of this and are no longer willing to wait until 2047 to crush Hong Kong's freedom and impose direct authoritarian control from the center.
In the Sydney Morning Herald, Ben Bland says the 'national-security threat' Beijing sees simply comes down to the way Hong Kong's success as a free society disproves the CCP's Leninist doctrine…
The strong sense of separate identity felt by many Hong Kongers directly undermines Xi's claim to be uniting and rejuvenating all the Chinese people. And the fact that Hong Kong's success has been predicated on its British-based legal system and its international way of life undercuts Beijing's efforts to show the world that its style of governance is superior. This is the subversion, separatism and foreign interference that Beijing is trying to outlaw with its national security legislation for Hong Kong.
…The party is not acting out of malignancy but a desire for survival … How can it sustain its image of infallibility if a free press and independent NGOs are exposing its flaws from within one of its own cities?
From the Australian Financial Review…
Xi Jinping's bulldozing of Hong Kong's autonomy is actually humiliating for China. For all its superpower pretensions, the Chinese state has proved completely unable to manage the people of a sophisticated and free global city that is also a major world financial centre.
Ching Kwan Lee writing in the LA Times says…
One inadvertent consequence of Beijing's latest action is that it further liberates people's political imagination from the confines of the "one country, two systems" structure … freeing people to find their own paths out of the woods, perhaps ending up in a new destination. To Beijing's utter dismay, the resounding new slogan in recent street and mall protests has become "Hong Kong independence, the only way out"…
We also now hear "Hong Kong people build a country" (using the same word as in Tung Chee-hwa's given name, "build China"). It's not just that Beijing's move liberates the political imagination as leaves people with few alternatives. For the first time ever in Hong Kong, a genuine independence movement seems almost certain to form.
My other prediction is that, as other forms of protest are squeezed, satire, mockery, art and guerrilla theatre will take on a new significance as a tool of resistance. Here are some highlights of an interview (via Tsui Lok-man) with RTHK's satirical talent Ng Chi-sum.
Wilfred Chan in The Nation offers a lament for Hong Kong.
If you can get through the paywall, the WSJ on the Kadoories – a Hong Kong tycoon-family who are 'a barometer of Chinese openness to the world'. How long before China Light and Power passes to more Beijing-linked hands?
I've just rearranged my (at one time a joke) collection of 'Hong Kong is doomed' books…