Two Mainlandizations du jour. One: the police ban the June 4 vigil for the first (but presumably not last) time, using the coronavirus as a pretext. As expected. Two: the United Front is pressuring people into publicly backing Beijing's national security law, even though no-one knows what will be in it.
Five university heads issue a slightly unenthusiastic-sounding statement saying they 'understand the need' for such legislation, and 'the prosperity and stability of the country and Hong Kong are closely related to the future of young people' (huh?), rounded off with backing for free speech and academic freedom. Two other universities' heads give more neutral-sounding statements apparently when prompted by the SCMP; this will be noted. HK University of Science and Technology has some explaining to do.
At the same time, the chairmen of eight university councils produce their own rather more fulsome endorsement about how we have a 'reciprocal obligation to protect the state'. These figureheads are government-appointed establishment shoe-shiners. In case you hadn't guessed.
Also, 2,000 artists [sic] like Jackie Chan, whose trashy movies and songs make big bucks on the Mainland, sign their own groveling and oozy declaration of support for the CCP's coming clampdown. Except some say they didn't sign it. (Do I get the impression these objectors might be the ones with actual talent?)
Of course, companies are also under pressure to make a public kowtow to the almighty Panda. The tax-return can wait; if you run a serious-size business and want to keep the heat off, here – at no extra charge – is an acceptable holding statement:
'We understand/accept the need for national security laws [as with the university vice-chancellors – essentially means you realize the CCP are paranoid power-crazed thugs], and we hope that with implementation of these laws, Hong Kong will return to stability/prosperity/normality'.
As a line-to-take, this should hold CY Leung and the Liaison Office Thought Police at bay for a few weeks while they hunt down juicier meat. But they will be back, and they will expect the full works at some point.
On the subject of lines-to-take, the Census and Statistics Dept needs rectification for getting their latest efforts wrong. The 'line' attached to their memo on provisional retail figures for April completely fails to blame such horrors as the 63% Y-o-Y drop in watch sales on evil foreign-backed separatist radical rioter scum, as required…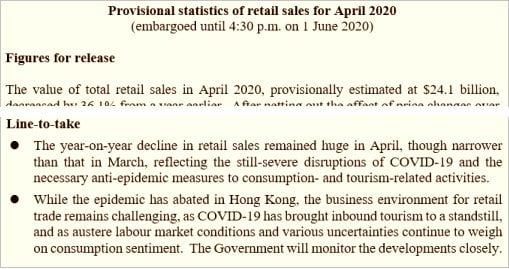 Haven't had enough SCMP op-eds saying pan-dems and all of us brought the national security law on ourselves? Here you go!