Trying to think of historical parallels for dictatorships crushing developed free societies. The qualifiers mean the fall of Cuba or South Vietnam to Communists don't come close. Czechoslovakia in the late 1940s? Though it was in ruins.
Here's an interesting comparison: Taiwan in the 1950s, after the Kuomintang Mainlanders took over the former Japanese colony. (The article is from 2018 when Beijing's creeping 'comprehensive jurisdiction' was starting to replace Deng's non-mixing of well and river waters.)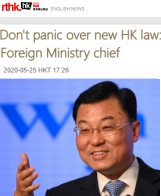 To take your mind off such things, smarmy Chinese officials and local Hong Kong weasel-puppets rush to say 'don't panic!'. Beijing's direct imposition of national security laws is aimed at only a few people, will end Hong Kong's problems and reduce the risk of terrorism and improve the investment environment. So stop demonizing! After all, every country has to protect its security and sovereignty.  
It's almost as if they are shocked at the negative reaction.
Their defensiveness won't reassure skeptics. Hong Kong already has laws to punish terrorist acts and other forms of violence. Even without national security legislation, it has an outdated colonial Public Order Ordinance and even creakier common-law riot and incitement charges. It uses 'lawfare' against political opponents – like public-health regulations to ban protests, and even inane Trade Descriptions offenses to trap activists. Indeed, Beijing already has the ability to force companies like Cathay Pacific to fire staff for their opinions. No new or extra laws seem necessary. What are the 'loopholes' that need to be plugged?
Until Beijing can convince us otherwise, we must assume that the intention is to criminalize acts that are currently legal (because harmless to society), or to justify other curbs on citizens' freedoms. In short, to silence dissent – to control, to Mainlandize.
The Bar Association notes that sidelining local political and legislative structures is unconstitutional. Except according to Leninist logic it can't be. So this whole exercise formalizes direct rule by Beijing.
The CCP obviously intends to take greater control of courts. As Reuters says, the NPC motion…
…states that Hong Kong's "judicial organs" along with its government and legislature "must effectively prevent, stop and punish acts endangering national security".
Danny Gittings points out that even if the courts don't fall into line, Beijing can issue an 'interpretation' simply declaring the new law to be in line with the Basic Law (thus not subject to the latter's free speech and other protections).
Perhaps a likelier possibility is a Beijing-obedient parallel national-security court system, with only dependable loyalist judges. Either way, Mainland security agencies will operate overtly here. George Magnus expects:
They will be diligent in trying to suppress dissent, curtail freedom of expression and assembly, and introduce arbitrary detention and other forms of repression. 
Perhaps this parallel jurisdiction will have its own prosecutions agency and prisons, too. They will presumably need a lot more cells. To quote Prof Ma Ngok: "Usually the penalty will be much heavier when it is national security."
One of the main targets for national security laws, as Tofu-for-Brains and others ceaselessly remind us, is Evil Foreign Forces conspiring with radicals in plots to overthrow the CCP. In practice, as Antony Dapiran points out, this could endanger foreign media organizations and reporters, foreign NGOs, academics and 'any foreign business or individual whose home country has a turbulent or strained relationship with China'. It will also of course (and primarily) ensnare locals who have dealings with such evil foreigners.
If Mainland use of national security laws is any guide, anyone – local or foreign – can 'subvert the state' simply by openly disagreeing with it, or helping or talking to someone who does. Just the threat of being accused of such vague, catch-all offenses intimidates every individual, group or business.
Among other delights, there is Mainland-style tech, telecoms and surveillance regimes to look forward to – Internet censorship, bans on VPNs, and the 'dystopian' facial-recognition social-credit scores and so on. And propaganda in and out of schools. And loyalty tests for the public sector. And who knows what else.
But it will only affect a small number of extreme radicals.