There are cops on every street corner this morning ahead of the LegCo rubber-stamp-debate on the National Anthem (Pretend to Respect) Bill. (What are they expecting office workers on Des Veoux Rd to start doing?) And we are learning more about Beijing's national security law for Hong Kong.
To no-one's surprise, it will target groups as well as individuals (not to mention thoughts as well as deeds). And a parallel court system – with only Chinese citizens as judges – will try people accused the various new offenses. This excludes any judges with foreign passports, which might reduce the choice a bit. Alvin YH Cheung noted two years ago that the pro-Beijing camp was starting to pick on non-Chinese judges and the whole common law system as alien.
According to that Asia Times story, a venomous pro-Beijing 'heavyweight' is demanding swift trials and 'enhanced sentencing' for the law's targets.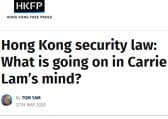 A HK Free Press columnist asks what's going on in Carrie Lam's mind? We could ask this about all sorts of people. One is Grenville Cross, former Director of Public Prosecutions, now purveyor of histrionic far-blue commentary in state media. He pushes not just the standard pro-establishment line of businessmen/bureaucrats under duress, but a full-blown mouth-frothing diatribe worthy of a politburo member for CGTV. (That's the global propaganda outfit that's just been in trouble for bias in the UK.)
What is the story with these people? Many of Beijing's co-opted loyalists in Hong Kong need to keep in the CCP's good books to safeguard family or other business interests or wealth. For some, it is a career move. Some mediocrities crave social status or the sense of being an 'insider'. Others became patriotic/xenophobic in response to colonial-era racism. Then there are victims of serious personal CCP pressure, including blackmaily type nastiness. In some sad and twisted cases (remember Elsie Tu?) turning pro-Beijing is a cheap if self-destructive form of revenge after being slighted – like an incensed lover having a one-nighter with some repulsively gruesome ogre after being dumped. 
Anyway, Jerome Cohen puts Grenville in his place with a (quite witty) riposte.
On the subject of pressure, Mainland-linked companies are reportedly ordering staff to sign pro-national security law petitions. And it seems the CCP still hasn't forgiven Cathay for its subversive-foreigner sins. For a sinister-hilarious glimpse of this future: how Hong Kong U managed to make Stanley Ho's death all about Edward Leung of HK Indigenous and imprisonment fame.