For two decades, the Hong Kong government has relied on a default template to promote and explain its latest steaming pile of garbage: the oh-so persuasive We Are Right and You Are Too Stupid to Understand argument. After deploying it to dazzling effect with a certain Extradition Bill a year ago, they bring it out again (perhaps for the last time) for Beijing's National Security laws.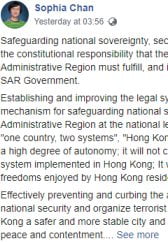 Thus we have a swiftly orchestrated show of support from top officials whose opinions the public consider buffoonish at the best of times. Even poor Chief Health Dweeb Sophia Chan is required to cut and paste stuff about terrorism on her Facebook page, apparently at 3.56 am. (Update: here comes more.) As a kiss of death, Beijing officials add their toxic endorsement to the campaign. If all else fails, we can always have a video of Jackie Chan as Goodwill Ambassador singing the Internet-Censorship-is-Good-For-You theme song.
It seems some Mainland and local officials are slightly perturbed by the negative reaction from the markets and international community to the National Security law plans. They assumed the world would look the other way, as it always has with South China Sea grabs, Uighur prison camps or Belt and Road debt traps. Maybe Xi Jinping has miscalculated this time. If so, we can expect them to tone down the We Are Right spin, and put more effort into convincing us that the new laws will 'only target a small group of people'. With oodles of sincerity, charm and warmth, of course. But perhaps, following the Covid pandemic, the rest of the world might finally have woken up about Xi's China.
Hong Kong represents an impossible contradiction: a free, pluralistic society that's part of a one-party Communist dictatorship. Leninist logic is that anything the CCP can't control is by definition a threat to the party's monopoly of power. (If you have an independent judiciary or free media, it follows that the party does not have a monopoly of power.) But you can't have a vibrant international financial centre without rule of law and a free flow of information and opinion. 'One Country Two Systems' was supposed to accommodate this contradiction. But unless Beijing genuinely treats Hong Kong as essentially detached and insulated from the rest of the country, the two systems are incompatible – one of them has to go.
Jimmy Lai has joined Twitter; Global Times already sees grounds for prosecution…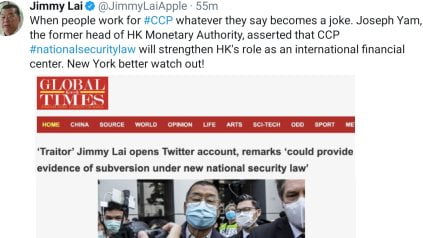 A couple of interesting items:
A new view of Hong Kong protests – from a bicycle.
And should we in Hong Kong start thinking about VPNs?
Also some lengthy responses to the National Security clampdown…
NPC Observer explains the NPC's decision on a NS law, how China's legislative process would insert a law into Annex III, and the issues of overlap with the basic Law and potential conflict with Article 23 legislation (suggesting Beijing's lack of concern or preparation). Scroll down to Section 6 for the main point – ultimately they can do what they want.
From CHRD, a long list of ways Beijing uses 'national security' as a tool of oppression in the mainland, and a statement demanding withdrawal of the planned laws.
Human Rights Watch's statement.
And one from Human Rights in China.
Also, a huge report from the Progressive Scholars Group on the Hong Kong Police.